by Mark Geisler
Here in Tombstone, the law just don't go 'round here. With Doomtown Reloaded's latest expansion, Too Tough To Die, the Outlaws emerge as kindred spirits to Gomorra's notorious Sloane Gang. These thugs and bandits have four new gang members to hire on, including some of the infamous Cowboys. The Outlaws also get a core deed geared specifically to their play style.
Ike Clanton talks big, but isn't much of a shooter. Perhaps fitting since he's best known for showing up to the most famous Wild West gun fight in history unarmed, or so he claimed in his defense. That said, Ike brings something the Outlaws have lacked, reasonable costing intra-faction high influence without upkeep. His ability to make select deeds Rowdy also plays well with the Outlaws strengths of controlling the town through force. By making a deed Rowdy, your cheap high bullet gunmen have the chance to take control of another deed even if they lack influence. Outlaws fielding Ike Clanton may want to serve Raven, currently the best Legend to synergize with Rowdy deeds.
The Outlaws in Too Tough To Die appear to have learned a couple lessons. First, when the going gets tough, the tough get going. Also, a gang has to stick together, and defend each other. Frank Stillwell has the ability to get out of shootouts he realizes aren't in his favor. However, if he's willing to help defend himself or another dude in your gang, he becomes unbooted while wanted. He becomes powerful after associating with Bad Company or using his Winchester Rifle. The Outlaws' new core deed, Five Aces Gambling Hall, reinforces the theme of sticking together and defending each other.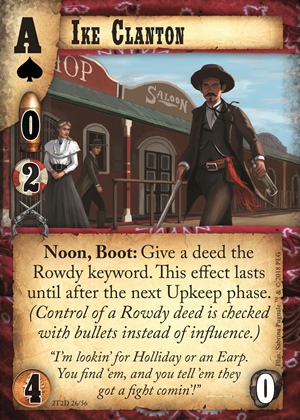 Silas Aims has traveled a rough trail since the base set. His experienced version now works in decks playing the new 9 value cards. While his bullet bonus now caps at four from his bounty level, his stud status and point of influence represent improvements over his humble origins. He is a particularly good dude to experience up during play, and might level up early on if the Outlaw player uses The Fixer.
Larry "Sevens" Swift is an all around good huckster, and can help flesh out a hexslinging starting posse due to his skill point, influence, and zero upkeep. The best thing about him is his ability to boot an opponent's attachment. This helps dudes with melee weapons, but can also prevent opponents from using what will trouble you most in a shootout. This stops acing cards such as Legendary Holster or a Shotguns, but can also prevent attachments with Cheatin' Resolutions from being used on you.
That's not all Too Tough To Die offers the Outlaws. Quarter Horses are great for Outlaws playing jobs, especially if they are targeting a location you wouldn't want to leave after completing the job. Hostile Takeover is a great noon action for Protection Racket decks, while a Heist job can help the Outlaws gain cash and bounty. This deck puts the outlaws to work for you:
Pre-order Too Tough to Die at:
https://www.peginc.com/store/doomtown-too-tough-to-die-expansion-preorder/

Remember, if you backed There Comes a Reckoning on Kickstarter, log into your PEG account to receive 25% off your Too Tough to Die order. Pre-orders also gain access to PDFs of Too Tough to Die. Perfect for trying out the new cards in the above decks!