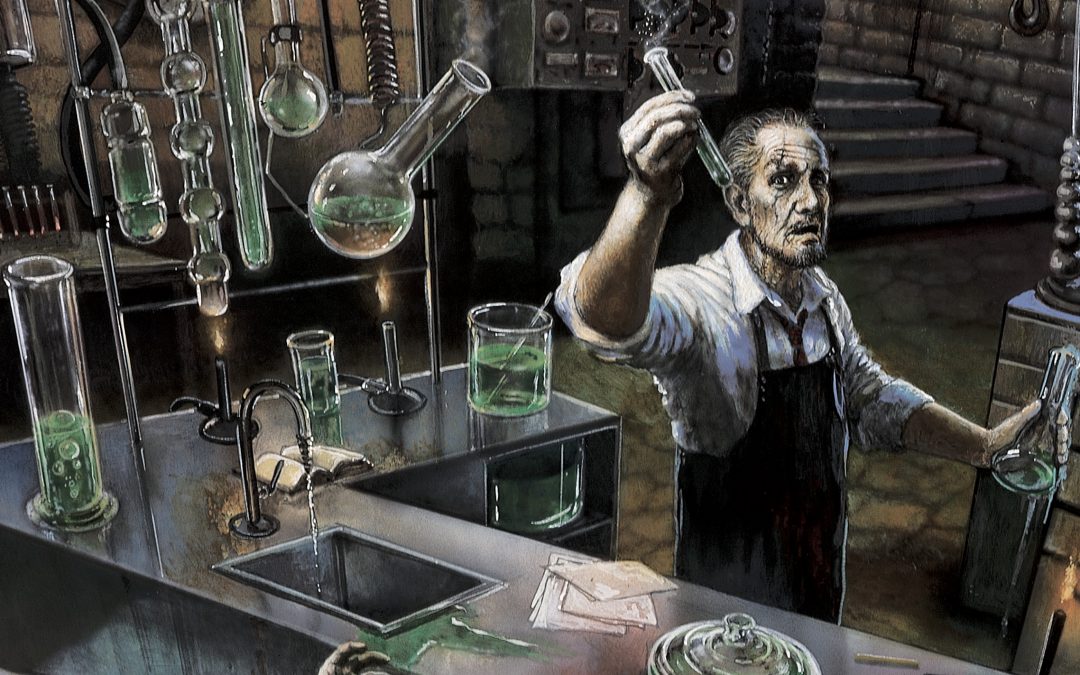 Howdy once again pardners! I've returned to reminisce about past Doomtown: Reloaded events and our plans for the future of how you, the players, can continue to affect this part of the Weird West. This week I recognize past winners and their accomplishments. Along the way, I feature a spoiler from the upcoming Tales From the Epitaph release earned as a prize by one of the winners of the 2016 Outlaw Series events.
First let's discuss Pine Box Entertainment's overall goal with organized play support, while also addressing concerns of the casual player.
A. As a competitive Doomtown player, what can I win?
B. As a casual Doomtown player, what do organized events offer a player who hasn't bought all the sets?
We understand that Doomtown appeals to both the casual and competitive player, and PBE continues to address both player's concerns as we move forward in with DTR. First, we want to ensure the casual playerbase that our playtest team is currently working on deck lists that feature just the Core Set with Tales From the Epitaph, as well as expanded deck lists that include additional expansions. We intend to continue this feature, including the possiblity of stand alone decks and similar lists in future releases. We also understand that Doomtown is a complicated game to introduce, and currently have several Learn to Play videos in production! For competitive players, we want to ensure that Doomtown remains one of the games you love and enjoy to play at tournaments and organized play events. For some players it suffices to dress up and throw down with friends old and new. Others look at what shinies they can add to their collection, or further, how they can affect the game. Let's take a look at what's been done with past events to address this latter hankerin.'
GenCon 2014
For the initial release of DTR, two inaugral events celebrated the return of our beloved game. Jim Despaw, playing Law Dogs, managed to take down the Friday tournament. Brian Fox, piloting Morgan Cattle Company Landslide, won the Saturday event. As both players fought viciously for control over Gomorra the next day (https://www.alderac.com/doomtown/2014/08/22/gen-con-winning-deck-guest-article/), Mr. Fox took victory and became our first Marshal. As a result, he earned the right to work with the design team to create a character that became part of the Dirty Deeds expansion, Dr. Brian Foxworth.
GenCon 2015
Doomtown players continued to enjoy tournaments and win prizes through the Deputy and Sheriff series. The next chance to affect the DTR cards and stories came at the 2016 Gencon Marshal Event, depicted in 'A Fight They'll Never Forget.' All players could affect the story, as each round players voted on which of Gomorra's finest would perish in the fight, allowing all participants to have an impact on the story. Meanwhile, David Hammond and Nick Glazer played off in a Fourth Ring 'mirror match' finals. David earned the victory, and not only got to design a card as well, but illustrated the art featured on the card! While some pesky gremlins got into the Blood Moon Rising printers, PBE will release the errata version of Dave "Slim" Gorman as one of the promotional cards in the 2017 Epitaph Series tournaments. Remember folks, applications for these events are up until May 31. With the Epitaph Series, PBE will track the outfits players use in these events, the most represented faction playing the most integral part in the DTR story canon within the greater Deadlands universe.
Outlaw Series 2016

After the 2015 Sheriff Season, the Gomorra Community Council hosted the Outlaw events, with winners getting to name a card that would be featured in a future expansion. Those cards did not immediately come to light as DTR temporarily rode off into the sunset. PBE, however, will ensure these cards make it into TftE and upcoming sets. You may have already seen the previously spoiled Cavalry Escort card. Today we feature 'The Winning Agenda,' named by Brenton Shaw, who won the Grand Master Jackalope event in Australia with the 108 faction. The following is the full list of winners, as we would like to recognize their accomplishments and look forward to seeing their cards as well.

The Wendigo Championship: AJ Valle, Morgan Cattle Company
Card: "Adrián Valle"
 Eerie East Championship: Joshua Jonas, 108 Worldly Desires
Card: "Cavalry Escort"
 Texas Rangers Championship & Pinkerton Championship: Chris Pottorf, Den of Thieves & Eagle Wardens
Card: "Forsaken Hound"
 The Queen's Call Out: Adam Whitehouse, Morgan Gadgetorium
Card: "Taff's Distillery"
 Great Maze Championship: Kevin Rosenbaum, Fourth Ring
Card: "Rosenbaum's Golem"
 The Great Rail Wars Championship: Chris Poulopoulos, 108 Wordly Desires
Card: "YOU HAD ONE JOB!"
What do you have planned for Gencon 2017?
You may have noticed a new card type in the rulebook and Pinnancle Entertainment Group announcements: Legend as Tales From the Epitaph will feature the four Servitors from Deadlands as Legends in DTR. we will give the winner of our first Gencon event  the opportunity to name a Legend for inclusion in an upcoming release! Also in keeping with the tradition of the Marshal events, this year's World Championship winner gets to design a card with PBE! And for casual players, our nightly community events will give attendees a chance to earn one of the full bleed Servitor cards being provided at the "Evil is A Choice" event.
For those across the pond, keep an eye out for updates on the July 1st 2017 European Championship, in which the winner will also have a chance to affect the Deadlands storyline!
It's an exciting time to return to Gomorra as we plan more organized play series towards the end of the year. After all folks, you didn't think we forgot about releasing a well deserved playmat for Sloane gang did you? Make sure to keep a look out for those tournaments and we hope to see you there!