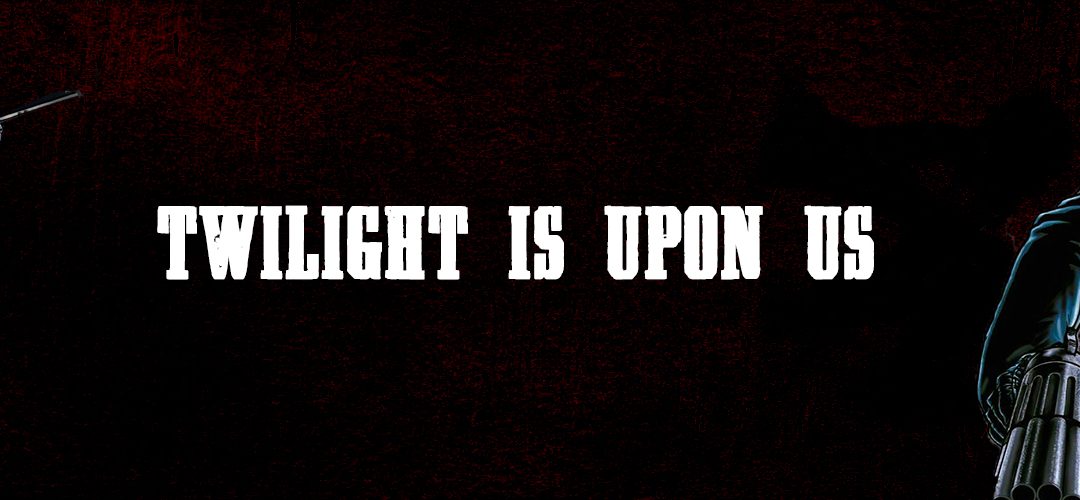 Doomtown players! For some time now Pine Box Entertainment has been mentioning fictions that can be influenced through our organized play events, which moving forward, will be referenced as round-ups! Since the continuation of the game, we've released two online fictions and the insert in "There Comes A Reckoning." Fictions online can be found at http://dispatch.pineboxentertainment.com/, along with the full history of the Doomtown: Reloaded previous fictions.
There are a variety of reasons for the delay, but in short, we owe you, the players, quite a bit of fiction in the coming year leading to our grand Destination Event in Tombstone, Arizona the weekend of October 26, 2019. The following is a break down of what you can expect, starting with today's release of "Separate Ways" by Fred Wan, the result of the PAX Unplugged 2017 Storyline Event.
Following this fiction, the following is slated for 2019:
-Too Tough to Die/Doomtown Worlds 2018: Owen Lean, Deadlands adventure writer, participated in our role-playing sessions in Manchester this past May where players helped influence the story not only through these games, but also in the Doomtown main event. While some of what happened will be reflected through flavor texts on cards in 'Out for Blood,' you players at home will get to know what truly happened in Tombstone in the Doomtown lore on the days leading up to October 26, 1881.
-Out for Blood: The next 56-card expansion for Doomtown following Too Tough to Die will include a fiction insert by Jeff Bailey; a prequel to the events at Worlds and an additional online fiction that reveals the aftermath of the events in Tombstone.
-Coot Jenkins Comes to Gomorra: At Gencon 2018, players involved in the Dead Man's Hand event faced off against Stone himself, and failed to stop him from going undefeated. The dire consequences will be revealed in this flashback piece by Jason Pere.
-Showdown at the Clanton Ranch: As players voted in the early 2018 round-ups on characters they wanted featured in the climax to the Tombstone fictions, this story will coincide with an upcoming release.
The Twilight Protocol Trilogy: (http://pineboxentertainment.com/2018/08/04/the-twilight-protocol-destination-events-in-2019/)
Lastly, we realized in Europe that we hadn't really kept folks at home in the loop on the character deaths, and had a discussion with many players online on what we could do differently in the future. As a result, we will be joined by some members of the Saving Throw crew, starting at GenghisCon 42 on February 22, 2018 (http://genghisconcolorado.com/).
For those not familiar with WildCards, this amazing cast of actors led a successful campaign that players were able to watch via Twitch (https://www.twitch.tv/savingthrowshow). Some of this cast joins us once again for a session where Doomtown characters featured in 'Out for Blood,' including experienced versions of previous characters, will be presented in a Trilogy of role-playing sessions that you will be able to watch unfold right at home or in person at the Twilight Protocol events! The first of these sessions kick off on Friday at GenghisCon following our Prelude to Twilight Doomtown event. Players that participated in the Servitor Series and Abomination Series will see their votes affect Deadlands/Doomtown canon as these players fend off the Reckoners with Marshal Jordan Caves-Callarman weaving the heroes through this tale. Players participating in Twilight Protocol Act I: The Agency, the next day on February 23, 2019, will have a chance to influence the continuation of this story leading to Part II at Chupacabracon in May (https://www.chupacabracon.com/)!
We hope you are as excited as we are for the coming year and trip to historic Tombstone to conclude our events! Whether you're a first-time player or veteran of the Weird West, we invite you to join us throughout next year's round-ups! Stay tuned for details on organized play Part I in 2019 following GenghisCon, where organizers can apply to host events!