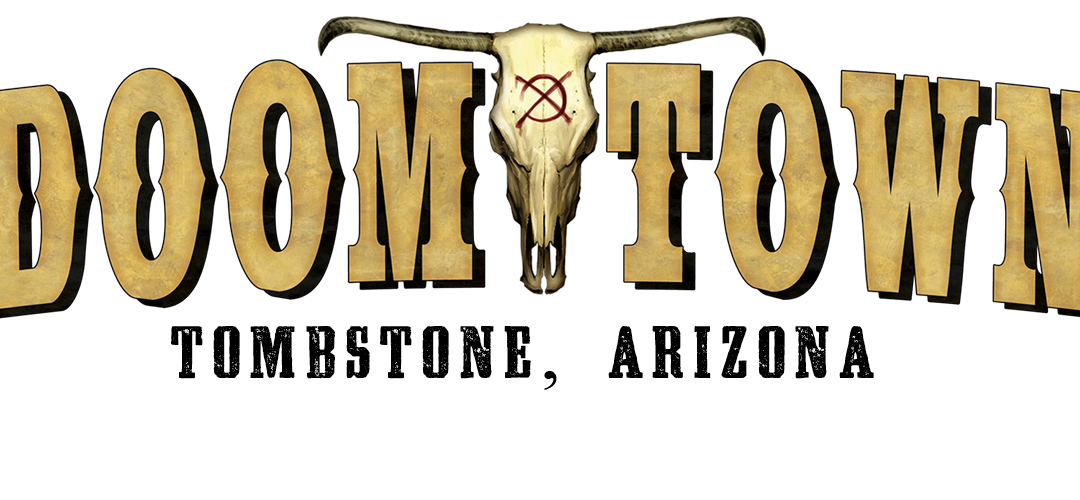 by Aaron "Dr. Cthulhu" Schnabel
The fading sunlight stretched across empty Arizona sky. Shadows settled down over the town of Tombstone and the residents of the Town Too Tough to Die were all tucked safely away in their homes or watering holes, as unbeknownst to them, momentous events were poised to unfold.
Shadowy drifters began slipping into town in twos and threes, until gathered at the Lookout Lodge and other locations around town, was a veritable gaggle of grifters, hucksters and ne'er do wells of all stripes.
Thus the 2019 World Destination Event for Doomtown began!
My biggest takeaway from this tournament and the memories I'll hold onto after the others fade are the ones about the community members and friends I made during this trip, not the games I lost (there were a lot of these), the games I won (there were a few of these) or the prizes I won (I didn't win any, but I did receive a ton of cool promos).
From the beginning, Pine Box went out of their way to make this event as welcoming as possible. From helping to book rooms, to offering to pick people up from the airport in Tucson, Pine Box went above and beyond to make sure that those who wanted to, would be able to make it to Tombstone.
I've never attended a major Doomtown tournament like this, and I don't actually get to play that often due to a busy family schedule. So it was with a fair amount of trepidation and nerves that I began my journey to Tombstone. I'm a member of the Doomtown Discord server, so I've had online interactions with a good number of those attending the event, but I didn't know really know anyone.
From the start, this community proved how special it is. Joe James (Prodigy) and his wife graciously gave me a lift into town from the airport so that Lapp wouldn't have to drive back out to Tucson to get me. I split a room with Thunderforge (Will Herrmann) at the Lookout Lodge. I walked into and all over town with various members of the posse, and at each step of the way, I found people who were just as excited as I was to share this experience and have fun in a town that couldn't have been cooler for our event.
Wednesday was a long day of travel, so by the time we rolled into Tombstone I was ready to crash. Of course I had to be careful to try to get to bed without waking my roommate, who was already asleep. The next morning I officially met Will, and then we headed down to breakfast. I was nervous, since I knew that most of the attendees already knew each other, but as soon as I settled down at the breakfast table, I was welcomed into the group and included in the conversation. Seeing the way that everyone interacted and talked with each other, it was very much like being around extended family, and somehow I was welcomed in along with everyone else.
Thursday was a beautiful and bright day and after breakfast was over, Jordan Caldwell (Zach Seldon), Doomdog, and I took the half mile trek into town. Pro tip: if you're walking through the scrub of Arizona, I suggest shoes with tougher soles than my Nikes. I got a thorn straight through the sole, into my foot. I had to stop and take off my shoe, and push the thorn through the sole and pull it out from the inside. Next time I'm wearing boots.
We wandered through town before heading over to the 4 Deuces Saloon for the Theme Deck event. The event was slated to start at 11, but we arrived around 10:30 and it was apparent that we were in a tough town because there was already a group of local bikers sitting on the porch drinking and it seemed like they'd been there for a few hours already. The theme event was a fun way to get to meet a bunch of cool gunslingers and see what kind of whacky decks they could come up with. You can see my entry, A Rough Night on the Town here.
After the theme event was over, we wandered over to the Crystal Palace Saloon for dinner. During dinner we were treated to a sneak preview of the Crystal Palace card.
After dinner we all rolled over to the Oriental Saloon and played some casual Doomtown until late in the evening.
Friday was a busy day, and while I won't recount it all, I will touch on a few highlights. We got to enjoy watching the shootout at the OK Corral, and the Tombstone HistoRama. We toured the Courthouse museum and got to see the original art piece that is featured on the promo version of Murdered in Tombstone that we received. By the way, if you ever find yourself in Tombstone, Puny Joe's Barbecue is highly recommended.
After we finished our day of tourism, most of the crew headed out to Johnny Ringo's for the Thieves Callout event, but I was lucky enough to get to head over to the American Legion to play in a game of Deadlands run by Shane Lacy Hensley himself. Our posse faced wild piranha pigs, snipers in the distance, and wily old prospectors before facing down a giant Hell Boar and some of the Whatley's themselves!
We had a ball, and Shane was an amazing GM. If you ever have the opportunity to participate in a game he's running, I suggest you take advantage of it.
After we managed to defeat the Hell Boar (without anyone in the posse dying to boot!) I retired back to the Lodge to get some rest before the main event.
Saturday dawned bright and clear and once again, after breakfast we headed into town. We gathered at the American Legion and got registered before settling down to sling some lead. Because I hadn't had much chance to practice before the event, I had low expectations. I hoped to win at least 2 games… and I got halfway there. Even though I bombed pretty hard, I still had a wonderful time playing Doomtown and facing off against new friends. After the event , I went to dinner with David Hogg Joe James, Dan Agnew, their spouses and we had a wonderful couple of hours just chatting, getting to know one another and relaxing before heading back for the Twilight is Upon event. I played the same deck that I had for the main event, but I fared better this time around. I went 2-1 and felt a little redeemed.
Then we all wandered back over to the Oriental Saloon where I got to spend time with Shane Hensley and Jodi Black, just chatting about all kinds of stuff (and learning a few juicy details for the upcoming new edition of Deadlands!)
I still can't believe that I got to chill with Shane… my inner fanboy was squealing with delight. I can't thank Pine Box enough for providing the opportunity that allowed me to get to hang out with the guy who created one of my favorite fictional worlds ever.
Sunday was the Top 8 showdown, but since I wasn't anywhere near the Top 8, I played in the Fear Level side event. I went 3-0 in the Swiss pairings and faced off against Joe James for the coveted Peacekeeper playmat. He was playing a tuned and tweaked version of the deck I had played in the main event (which I had stolen from him off dtdb.co) and I was playing a Morgan Stables gadget deck. His early aggression and my inability to get any money or find my Force Field meant that he quickly destroyed me. It was a lot of fun to face him though, and I learned a lot from our game.
With that, the official events were finished. That didn't stop us though, as many of us stuck around and started playing casual Doomtown through the rest of the day, even into the night back at the Lookout.
Monday dawned and we gathered one final time for breakfast. The Pine Box coach pulled out of town and we were a muted group as we wended our way back to Tucson.
We made it through security and most of us ended up in Terminal B (sorry Will and Dave Winner) so we were able to spend a few more hours chatting and some even got a few games in before we dispersed to our various flights.
I can't really express how fantastic this whole experience was. Playing Doomtown is fun, and the fact that I got to play it for four days straight is awesome. But the highlight is really the people I met and spent time with, and I will carry those experiences around for the rest of my life. I can't wait until the next time I'll get to gather with these crazy gunslingers and live in the world of Doomtown with them for a little while again.
If you've never been to a big Doomtown event, I really hope that you make the time to do so soon. I have a deeper love and appreciation of this game now than I ever had before, and I made friends that I cannot wait to see again. I won't be in Copenhagen next year, but I suspect that if you make it, you'll find me slinging some lead in Dodge City in 2021…
Hope to see you on the trail soon, pardner!