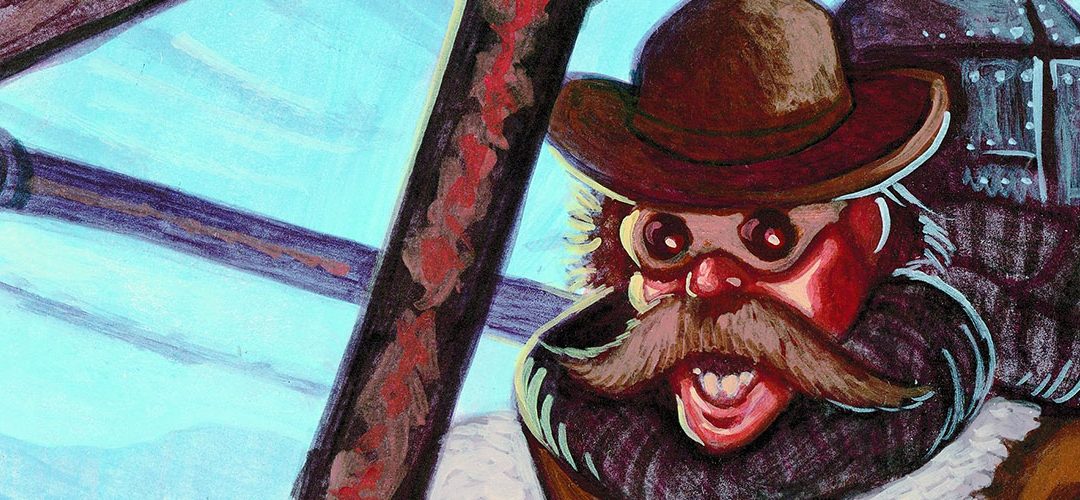 by David Avery

Arthur Dingler, an Austrian inventor and resident of Deadwood, operates an autogyro service (Dingler's Whirliwigs) for visitors and denizens of the town. From this lofty position he gives Deadwood's prospective Entrepreneurs an eagle's-eye view along with a short-term glimpse into the future. In the Deadlands plot point book, The Last Sons, Arthur is one means for a posse to obtain access to Devil's Tower.
The first and most obvious decision for Arthur is whether or not to keep or get rid of your opening lowball hand. This is particularly important as Arthur raises the stakes on the first low ball by adding an extra ghost rock to the pot. So, if you can win it, you probably should. If Arthur sees a high card or a pair, you probably should leave it there and hope for early economy boost. If you are not that lucky, Arthur gives you the opportunity to change your first lowball hand in one of two ways. 
Shuffle back in – In addition to avoiding a crushing lowball defeat you may also want to shuffle those five cards back in to ensure key cards stay in your deck. Nothing frustrates a Doomtown player more than watching cards significant to their draw structure or game plan go to discard after lowball. Arthur lets you fix this for at least the first turn. He also provides limited protection for your jokers. A Joker might win you low ball, but normally you want to save them for shootouts later in the game.
Discard – Many Entrepreneur decks rely on playing goods. If they can't draw those goods into their hand, they then rely on the card game staple of playing them from their discard pile. Arthur helps these decks by giving you a ten-card starting discard pile: five from his ability and five from your first lowball hand. This hopefully lets you find the goods you are looking for, thus getting your deck off to a good start.
 Maggie Harris is an engine for most horse-based decks, whether they are robotic or normal. She can, however, only lasso horses found in the discard pile. Even if your first five cards contain a horse, Arthur can seed the discard pile with the next five cards to corral plenty of horse flesh to power the inevitable calling of the cavalry. 
This deck by Harlath uses Arthur to set up Maggie and Irving to power a fast escalation. Try it using Arthur in your starting posse instead of Henry Moran.
Morgan Stables allows a cunning, but ultimately cowardly, Entrepreneur player with a legendary holster to rush in and bushwhack some hapless dude. But this strategy only works if you can get your hands on the corrupting leatherwork. Doomsday Supply can help by letting you grab the holster from your discard pile even in a shootout.
This deck by AtotheJ can be updated from it's Top 4 GenCon finish in 2019 to accommodate the most latest Doomtown expansions and swap out Kyle Wagner for Arthur.
Gadget decks can also use discard pile interactions. The Smith and Robards and Gadgetorium outfits both need gadgets in hand to perform. But if you don't draw a gadget in your starting hand, you can be at real disadvantage. As such, many gadget decks play discard pile interaction. For example, you can kick start your economy by putting on a Technological Exhibition to invent a disgenuine currency press before your opponent can block you. 
This deck uses both tech expo and doomsday supplies to play gadgets quickly and power up Nicholas Kramer and set up a hearts straight flush using decimator array. Swap out Willa Mae MacGowan for Arthur.
Welcome to Deadwood is currently available for pre-order with your local store or online here.