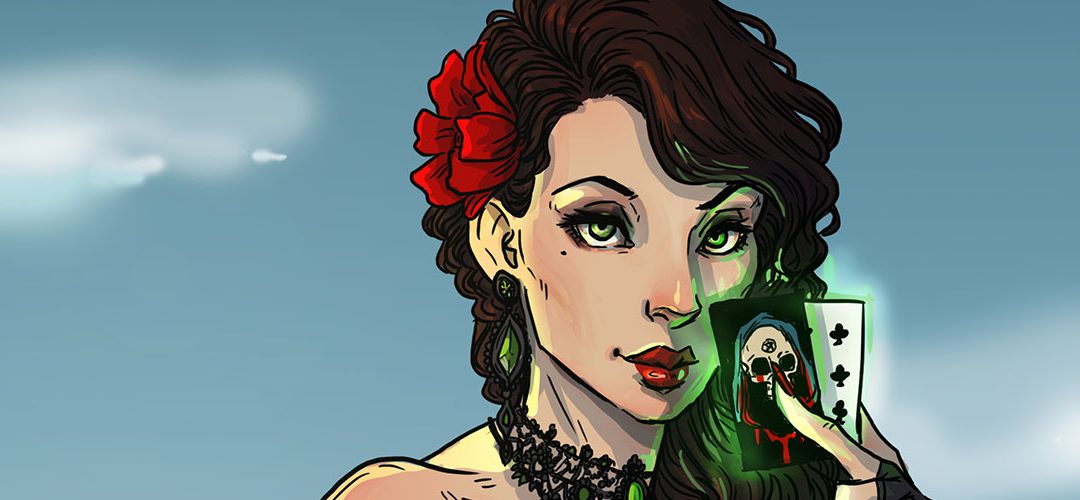 by David Lapp
In 2019, Pine Box Entertainment revived the Doomtown Badge Events. This included the Marshal round-ups at major conventions as a carryover from the AEG era of the game. PBE also introduced three new events: The Agent, Ranger, and finally Marshal of Tombstone for the major destination event in Tombstone itself. To coincide with these events, the cast of Saving Throw WildCards portrayed Doomtown characters in a three-part act known as the Twilight Protocol Trilogy (Act I linked). To thank the cast for their contributions to providing live fiction for the Weird West world of Doomtown set in 1882, Pine Box wanted to honor the cast's characters from the original WildCards 5-season series on Twitch, by inserting them into the Doomtown game itself. This started in the expansion, 'Hell's Comin' With Me,' with the debut of Gabriel Prior. We even honored the Marshal himself with the Marshal Caves Callarman card. That left us with four remaining cast members, the next of which appears in 'Welcome to Deadwood.'
Rosaleen Saorise Byrne is a character appearing in Wildcards videos set in Deadlands. Created by Meghan Caves, Byrne is the posse's huckster with an intense loyalty to Gabriel Prior. She made her first appearance in Episode 0 – Character Creation. You can engage with the cast of WildCards and their fans on their Discord channel. Rosaleen was first spoiled during Meghan's Savage Mysterium game here.
As the fifth grifter to be featured in our playtest articles, Rosaleen follows the trend thus far of card cycling/fetching. Arthur Dingler provides a peak into upcoming cards for a mulligan and Entrepreneur twist to lowball. Yasmin Tian allows a discard and draw while providing dual options for a Blessed/Kung Fu starting gang member. Sifting Squirrel provides the potential for additional cards with Shaman/Kung Fu First Peoples players, and Dr. JT Goodenough lets you start the game with a gadget in play. Rosaleen Byrne assists to help provide a more ideal starting hand by simply discarding and drawing exactly two cards. Providing one influence and the Huckster keyword, she can help cycle to a starting hex, cheatin' resolution, deed, or whatever tool you seek at the time.
The first deck type that Rosaleen supports is any starting gang for Den of Thieves. The errata on Rico Rodegain hurt the original starting gang for this deck with the loss of influence. With Rosaleen, you have the chance to create an even better starting hand, have a solid second Grifter for use with your Outfit ability, and increase your starting influence. The decks 'Jordan Caldwell' and I played in the finals of GenCon 2016 can both be updated with Rosaleen. Here you'll find an example of updating this playstyle to switch from a blitz to a swarm deck. Milt (or Fred Aims if you suspect landslide), Makeio, and Rosaleen (replacing Pete in the link) are your locked in starting dudes. Jake Smiley and Travis Moone swap out for Allie Hensman, Willa Mae, or Virginia depending on what you feel is best for your matchup. You can even bring in Barton Everest if you want to blitz.
Rosaleen is equally great in the 'Sluckster' style deck, replacing or adding to the general starting gang that includes Maria Kingsford and/or Antheia Pansofia just for the starting influence Huckster. Try her in this build from the Name-A-Card Online Event instead of Maria or this one from Origins 2019.
Spoilers!
At the time this article was initially written, I had mistakenly posted the linked list noting that Rosaleen replaced Gina, having thought she was value 3. Upon further review of the deck, I'd like to provide you with spoilers that include a couple of the heavy hitting actions in 'Welcome to Deadwood,' along with a new experienced dude. 
Honoring Name-A-Card prizes awarded at PAX Unplugged, both Bad Beat and Play for Blood have their names derived from that round-up in 2018. Play for Blood is guaranteed to make an environment changing splash with the ability to increase your hand rank on ties. Alternatively, you can use the Noon action instead, should you not expect an upcoming Shootout or are trying to dig for a specific card. Bad Beat provides players with a second cheatin' resolution on value 7 with a Bottom Dealin' feel to it. With Bad Beat causing a player to replace their hand with the top 5 of their own deck, this allows you to not have to run a looser draw structure you generally find from running Bottom Dealin'. The ability to steal ghost rock if they're still cheatin,' makes this card appealing to play in lowball as well.
In the above referenced Twilight Protocol Events, players and the Badge winners helped influence both the Doomtown storyline and upcoming cards. As a result of the Ranger Badge event, Willa Mae MacGowan joined the Ranks of the Texas Rangers. The Experienced version of this card allows you to save a dude that had been targeted by Pinned Down or Black Owl. Additionally, Willa Mae can save a dude in her posse and end a shootout if that was your only other dude.
The following updates the linked Den of Thieves list with the additional cards to try out:

Den of Thieves
Dude (19)
1x Jake Smiley*
1x Rosaleen Byrne*
1x Travis Moone*
1x Makaio Kaleo, Esq.*
1x Milt Clemons*
1x Allie Hensman
1x Fred Aims
1x Buford Hurley
1x Funtime Freddy
1x Genesee "Gina" Tailfeathers
1x Lawrence Blackwood
1x Ol' Howard
1x Black Owl
1x Marion Seville
1x Barton Everest
1x Virginia Ann Earp
1x Willa Mae MacGowan (Exp.1)
1x Travis Moone (Exp.1)
1x Antoine Peterson
Deed (10)
1x The Orphanage
1x Notary Public
1x Yan Li's Tailoring
1x Hustings
1x Clanton Ranch
1x B & B Attorneys
1x Town Council
1x Gateway Station
1x Ike's Place
1x Hunter Protections
Goods (10)
2x Bowie Knife
2x Shotgun
4x Tusk
2x LeMat Revolver
Action (13)
2x The Stakes Just Rose
2x Sun in Yer Eyes
3x Coachwhip!
1x Play for Blood
3x Kidnappin'
1x Bad Beat
1x Ricochet
Whatever style of Outlaw deck you prefer, Rosaleen is sure to find her way into many Outlaw deck builds in a post Welcome to Deadwood environment.
You can pre-order Welcome to Deadwood, shipping in November, through your FLGS or directly from Pine Box Entertainment here.