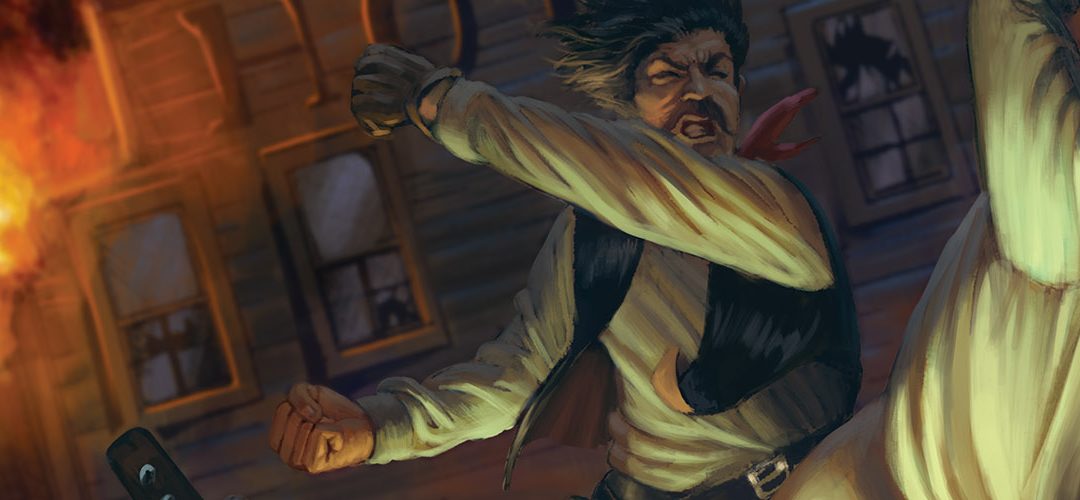 by Robert Campbell with Konstantinos Thoukydidis
After our interview with the current and previous design team, Playtest Lead Robert Campbell spoke to previous design team member Konstantinos Thoukydidis to discuss his design process, favourite cards and more. Known by his online handle of "db0" to many community members, Thoukydidis also provided us with a haul worth of any of Silas Aims' robberies: a cache of old design diaries considered lost when AEG's Doomtown articles were taken down. Our thanks to him for his previous design work, the articles, and partaking in this interview.

(The following interview has been lightly edited for clarity)
Q: How did your design process work – did you tend to start from theme or mechanics?
The theme was mostly handled by the story team but a lot of the time they did get ideas from the card names I thought to go with my card designs. Typically, I started from the card design. Quite often that started from me wanting to either cover an existing gameplay hole or provide a new archetype to play with, such as experimental gadgets, grifter tech, or sidekick tech, and so on.
As I was thinking of card ideas at all times, I usually kept a massive document of potential ideas to choose from. As I would implement ideas out of it, I would prioritize new ones from that document as per the needs of the game and its various archetypes.
When addressing overall weaknesses in the game, I tended to be more reactive. It's not always easy to see problems in the metagame, due to the small scale of playtesting and us leading the published cards by 2 sets or so. So I had to pay a lot of attention to the meta and address potential issues before they started frustrating the community too much. If I waited until a deck archetype dominated to take action, it would take too long to fix without nerfs. I believe it's primarily this aspect that allowed us to avoid any bans during my run as lead designer.
When promoting new archetypes, I usually had the concept running in my head and new ideas to fit that archetype would pop-in constantly. However, setting up something new can be quite tricky, as seen by how difficult it was to get experimental gadgets off the ground. My plan there was typically to start with overall useful cards of an archetype, that would work good enough outside it. Then I'd start adding more and more synergies, where a deck built around it could form when a lot of synergistic cards could be added together.
Q: Which card design are you most proud of?
I feel like Yagn's Mechanical Skeleton (also a sample where story used my card concept without much changes btw) was a very important card as it put gadgets on the map, but also elegant enough in its design to easily slide into most gadget builds while also supporting quite a few possible archetypes (horse tech and gadget dudes to name two).
As simple as this card looks today, it was also something out of a "proof of concept" card for me, as I was hearing a few people in discussions complaining that "gadgets can never be good due to their extra costs over other skills." I set out to prove them wrong because another way to look at the cost being too high, is that the effect is too weak. So I set out to design a gadget which provides such bang-for-the-buck, that one cannot undervalue its usefulness-to-cost ratio. As it turns out, I managed to strike (imho) precisely the golden balance of gadget-cost/usefulness as I didn't have to tweak the card almost at all before it went to print.
An interesting point about Yagn's however, is that it crystalized for me the direction to move for a core aspect of gadgets.
Note: you can link to my design diary for gadgets here if you want.
(EDITORIAL NOTE – this is now archived in one place with other original design diaries. For the gadgets, search for: The philosophy of science )
 Namely, multipurpose; whereas other goods tend to cover one aspect of your gameplan (shootouts, influence, control, etc), gadgets are allowed to do more than 1 thing at once in the same card. Therefore they save you card space in your deck for more versatile cards. Yagn's handles this like a pro, providing Shootout strength, Shootout defense, Influence, anti-Control, and 'Tech' in one card. 
Q: Are there any cards you designed that you feel were underutilized?
Hmm, quite difficult to tell as I'm omniscient so I can't really know if I'm just not seeing it myself. I want to say I expected Signing Over the Stores would see a lot more play as the benefits it gives out of one card are massive. It has a big risk (Job in the town square) but it also gives massive benefits: 3x "Tutor" effect + cost reduction + unboot on non-defense. It worked amazingly well for me in my playtest builds, but I never saw it hit the table against me. But as I said, maybe I just wasn't playing in the right meta. A deck built around this and someone like Byrne could be quite brutal.
Q: Are there particular cards or decktypes that were a pleasant or unpleasant surprise to you?
I definitely did not see Spirit Fortress coming! The initial design was that the Totem player would be spreading spirits around, but combining cards like Nicodemus opened a can of worms! Fortunately as far as meta-warping effects go, it was not a disaster like something that caused an unchecked landslide would be, and people could tech against it enough until we could provide more tools to deal with it in later expansions.
I also did not foresee the Showboating becoming such a linchpin card! We did playtest for that exact scenario but we deemed it too weak to base a deck around. How wrong we were!
Q: What are some of your favorite cards you designed and why are you fond if them?
Hmm, I would like to say
Q: What did you enjoy playing for casual matches?
That would totally be my "I Can Dance All Day" deck which I was running since "beta" days. It plays to Doomtown's strengths by masterfully playing the maneuvering game, but also not being afraid to duke it out at the right moment.
Q: What did you enjoy playing for competitive matches? 
I honestly was not much into competitive matches as there was no scene where I was. The only tournament I played in was the Final  EU Marshall event where I played a near-bicyle deck in a vain attempt to not do to well in the ranking. 
But given my previous experience, I always liked to play unconventional and new decks in tournaments and attempt to disrupt the meta. AKA I could always win with jank, but jank that I trained myself to play to perfection!
Q: Are there any questions/topics you wanted to bring up that didn't come up from the interview questions?
On Game Design in general:
In case anyone was wondering why I kinda dropped off the face of the earth after AEG cancelled the game: Even though I love the game to death, I was also doing a massive amount of effort when leading DTR design. On top of the aforementioned design duties, I was project-managing the playtest teams, writing articles, crafting the OCTGN client for online gaming (and PT), discussing the game on Facebook (a lot of arguing why Gadgets don't really suck), and of course, just playing online now and then. It was kinda all-consuming for me for 3 years, so when the game got cancelled, I was so burnt-out that I honestly didn't even want to think about the game anymore, nevermind play it. I have still not really played a DTR game since that time.
For people who want to get into game design, as rewarding as it is, you need to make sure you're not overdoing it. Stick to your role and try to get other people to handle other parts.
On new DTR design:
I like the direction the game is going, even though I'm really out of the loop lately. One thing I worry is that I see a lot of the same mistakes we did with the gadgets back in the day, where we were effectively creating slightly better versions of existing goods, with a massive increase in costs (booting, skill check etc). I have not played with the new gadgets of course, but this is just my impression on reading the cards and comparing them with the early gadgets with had like the flamethrower.
on DTR design in general:
When I joined the DTR team, I was not really there to design, so I didn't have that much input from the get-go. Initially I was there just to provide the playtest client. I kinda took over when other devs dropped out and AEG realized I was decent at it. Unfortunately, because I was not there from the start and we had very little time to adjust the game once I joined, a lot of the rules of DTR stayed the same from the Doomtown Classic. 
I really wished I had pushed further for some things like mulligans and more factionalization. One thing that I don't like about Doomtown is how you have all those cool dudes in your deck, but in 80% of the game, you're stuck playing with your starting posse only. Making the faction leaders discount was my last attempt to make them see some play. 
Had I been designing the game from scratch again, I would have really liked to find a way to make more dudes hit the play each game. I also think the economy of DTR is very old school design and it could be significantly streamlined to allow for more card playing and less worrying about Ghost Rock upkeep and so on.