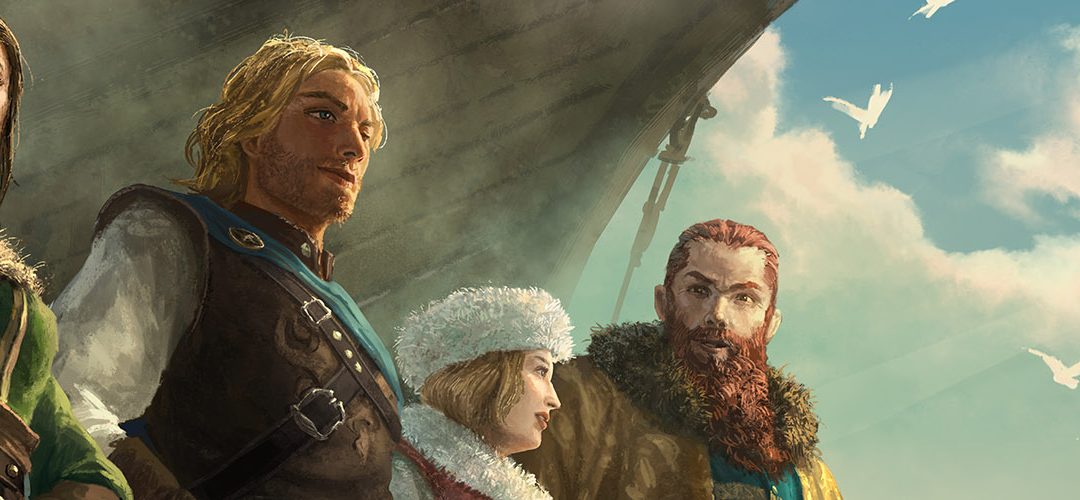 A 7th Sea: City of Five Sails Playtest Article
I'm Max, one of the playtesters on the new 7th Sea: City of Five Sails card game under development from Pine Box Entertainment. Today I'll provide a partial overview of what you can expect from the upcoming game. 
But first, let me introduce myself, a game player from a rainy ol' island known to you all as England. I've been playing card games for the last 12 years – I started, like most, with Magic: The Gathering and did my time travelling around for Grand Prix and Pro Tour Qualifiers. In 2012, I discovered Android: Netrunner, and the whole game changed, as I discovered LCGs in a big way. Since then, I have played almost all of them in some way, shape, or form. I've also done my time with some non-LCG games throughout the years, primarily Pokémon and AEG era L5R. So, don't be surprised when, for context, I reference various other card games. So, with the boring introductions done and dusted, let's talk 7th Sea: City of Five Sails, and some of the features you can expect. Please note all mechanics are still in development and you may find changes in the final product.
Approaches
Approach cards are fundamental to 7th Sea: City of Five Sails for determining initiative for the turn. They also set your starting Panache – the stat that determines how many cards you will draw at the start of the turn. If you are familiar with the Game of Thrones LCG, this is similar to the Plot Deck. Although the effects are less dramatic, Approaches tend to enhance your game plan for the turn rather than define it. 
You'll be coming to your games armed with 7 of these Approaches selected, forming their own mini-deck. You choose one Approach each turn, and then you're off to the races (or a deadly back-alley brawl, at the very least)!
Locations
You won't face off against your opponent in some imaginary, theoretical battlefield. Oh no, you'll duel it out at three locations across the City of Five Sails. These are less like the Deeds in Doomtown, and more like planets in the old Warhammer 40,000 Conquest LCG. 
At each of these locations (The Docks, The Forum, and The Grand Bazaar) you will deal Neutral Cards from the Search Deck (more on that below). Control these locations to earn "Hero Points," and also use them as the base to launch your noble (or nefarious) plans. 
"Search Deck" (Playtest Term)
The Search Deck really sets 7th Sea: City of Five Sails apart from other games. Between you and your opponent sits a Neutral Search Deck. This deck is fixed, it will be the same for everyone playing the game around the world. During the game you'll be dealing one card per Location each turn. 
The Search Deck contains events, characters, and attachments for players to lay claim to. Some decks rely on the Search Deck to get their game plan going, whilst some for the most part operate independent of it. All players, however, will need to be aware of what is coming out of it each turn, as it really is full of treasures. Even if you don't want a particular revealed card, you might just want to stop your opponent from getting their hands on it.   
Skulking and Scheming
The heart and soul of the game takes place in the Skulking and Scheming phase. Here you will tussle with your opponent at each location, with you and your opponent alternating taking actions.

These actions form the core of the game, ranging from challenging your opponent's characters, playing Risks (action card), and moving your characters around Five Sails in an attempt to dominate the city! The alternating action taking (I go, U go in classic gaming parlance) is core to the game. To reference the short lived Star Wars Destiny game, sequential flow makes the game feel fast and engaging to play. 
Riposte, Parry, Thrust
Combat in 7th Sea is, dare I say it, flippin' fantastic. You see, every card in your deck has a Riposte, Parry, and Thrust value (RPT from here on out). 
Once you and your opponent are locked in combat, you'll alternate playing these cards in a deadly, swashbuckling duel. Play a card with 1 Riposte? Deflect a damage, and send it back to your opponent. Parry? Get that damage away from me! Thrust? I'll take the hit, but I'm slinging some of my own damage back at you. Combat only ends when there is no more damage 'incoming' at either player, and some of these combats become epic battles of back-and-forth card play.

Just like the Poker Hand mechanic in Doomtown, this combat system drips with theme. You feel like a Musketeer or a swashbuckler every time. It also makes deckbuilding both fun and challenging. Maybe there is a really powerful card, but its RPT values aren't great, or there's a lower powered card but when you're in combat, its high RPT values allow you to dominate and win the battle. Oh, and yes, some cards have points in each RPT stat, and you get to use all of them when you play them into a duel. 
Concluding Thoughts
Well, I hope you've enjoyed this little insight into the game as it currently stands. I've not delved too deep into the details, as we're still thrashing some of them out during playtesting. Hopefully this has let you know some of the things you can expect. At some point, I hope to share with you all more insights about 7th Sea: City of Five Sails' Factions, along with tips about deckbuilding and general game play strategy.