by Aaron Schnabel
The wind sighs forlornly down the dusty street. Townsfolk hide behind wooden shutters and closed doors. Two groups face off from each other, the only sound the rustling of dusters and the clanking of spurs. The silence is sundered by the sound of a shot and chaos is unfettered. It lasts only moments, and yet to the participants, it seems to go on forever. When the smoke clears and the gunfire fades away, there is only one person left standing in the street…
Doomtown is a game of heroes and villains, cowboys and rustlers, magic and machines. The game's mechanics meet these themes in an evocative fashion that few other card games have managed to replicate. Nothing compares to the excitement of maneuvering your dudes around town from one deed to another, hoping to catch your opponent off-guard and remove their influential dudes from play with a clever feint of movement and action. Sometimes it just comes down to the luck of the cards and hoping you can pull that 5 of a kind you so desperately need…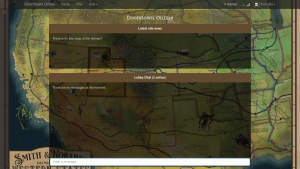 Playing Doomtown in person is undoubtedly the most fun and fulfilling way to play the game for the majority of people. But as evidenced by the entire last year, live play isn't always possible. So where do gamers turn to get their fix when they can't meet up at the local watering hole to sling some cardboard? The internet of course!
I played a lot of Android: Netrunner before getting more seriously into Doomtown. For A:NR, I played online via the fantastic website jinteki.net, which is easy to use via fully automating the various steps of the game along with the card interactions. Thus, I found playing A:NR online a breeze. Just create an account, pull in a deck, and away you go. No client to install, no messing around with downloads, etc.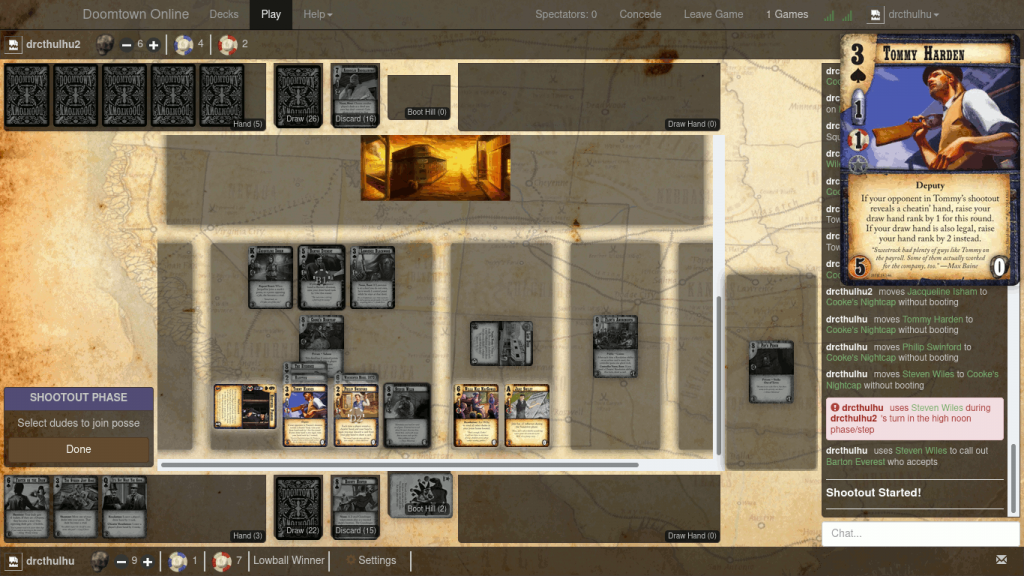 So, one of my biggest wishes for the game has always been a clone of jinteki.net for Doomtown. When I started playing Doomtown, OCTGN was pretty much the only game in town if you wanted to play online. A lot of people have put a lot of work into maintaining the Doomtown module for OCTGN and I deeply appreciate their efforts. However, there remain severe barriers to entry with OCTGN that mean that it often feels like you're spending more energy managing OCTGN itself rather than playing the game.
These obstacles mean that the client isn't widely adopted, which makes it harder to play Doomtown when you want to. This last year has shown that we need robust, easy to use tools to engage in our hobbies and social gatherings when it isn't possible to do so in person.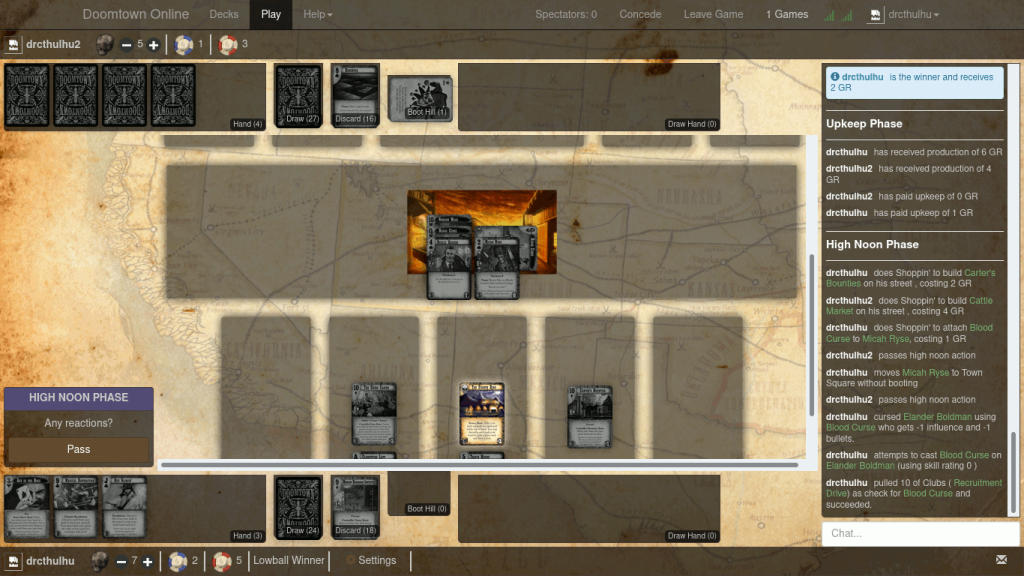 Frustrated with OCTGN's limitations, I took it upon myself to update an old Tabletop Simulator mod that Blargg (our wonderful dtdb.co admin!) had originally put together. I got it  up to date with the latest expansions and, with PBE's permission, posted it to the Steam workshop. I saw this as another avenue for people to play Doomtown, especially those that can't or won't use OCTGN. The mod has proven to be fairly popular, and I'm grateful that it has
gotten people playing Doomtown again, or playing for the first time. For me though, it's always been a stopgap.
Similarly, Doomtown modules were recently added to untap.in and a couple of other online platforms. On one hand, this is great as it allows more people to engage with the game. On the other hand, it's become a bit of a problem since the online player base is splintered between several different platforms.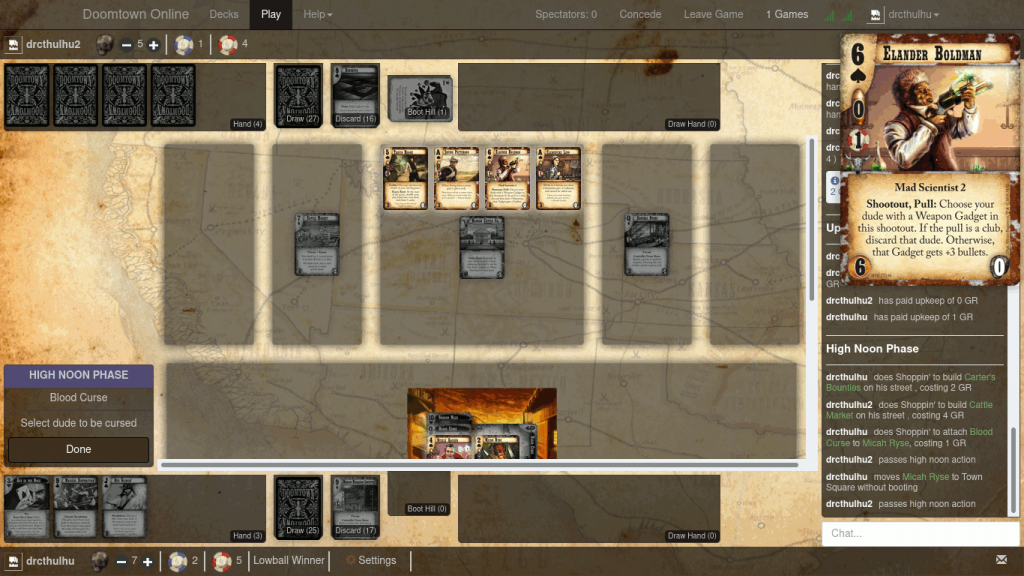 In addition, PBE took on the challenges brought on by the COVID-19 pandemic and moved all of their scheduled 2020 tournaments online. This was fantastic as it gave people a chance to still play the game with officially sanctioned events and prizes. At the same time, trying to manage which platform players would use, mediating disputes if one player wanted to use OCTGN and another could only use TTS, etc. was an ongoing problem. it became clear that a single, unified platform that was easy to use and available to everyone was necessary to ensure the growth of the game and to bring the online community together.
As it turns out, Blargg had once already started building exactly what I'd long hoped for: a web-based, platform agnostic, fully automated game client for Doomtown. Rather than being based on jinteki.net however, it was forked from theironthrone.net source code, which uses javascript instead of clojure for the card automation.
For various reasons, he wasn't able to finish it and bring it online. Thankfully though, someone else decided to step up, take that code base, and complete the project.
Thus, was born Doomtown Online. While not 100% feature complete, the client is already at a point where you can play a full game of Doomtown with a good chunk of fully scripted cards. You can even play with cards that are not yet implemented, as there are commands to allow you to manually manage the game state!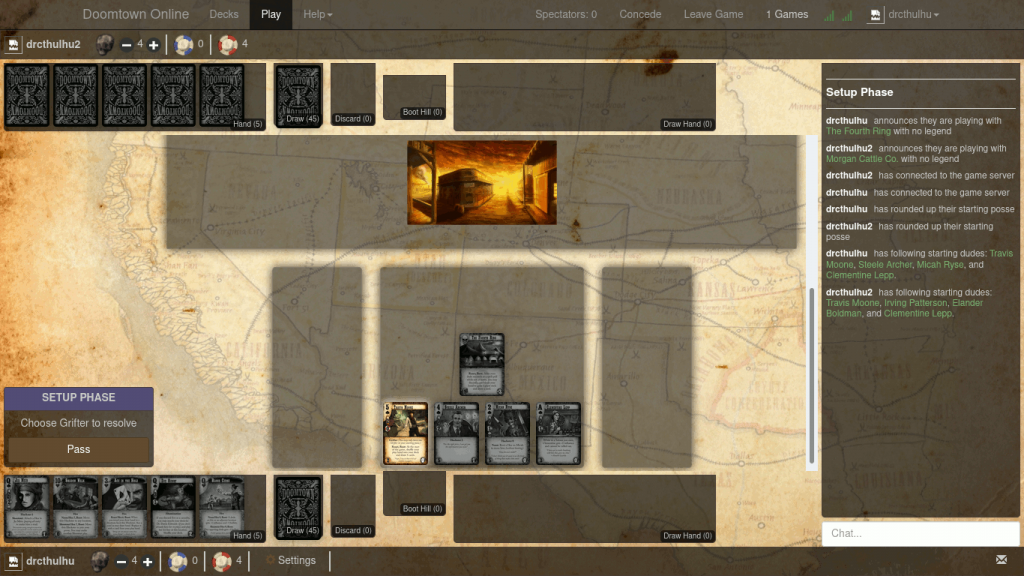 As soon as the project was announced on the Doomtown discord server, I knew I had to jump on board and help out wherever I could. I volunteered to set up a test server with the client on it, so that we could test features and games in a real environment. I learned how to use git and started fumbling my way through contributing card automations. Other people joined in to help with test automation, etc. We now have a small but dedicated team working on this project, rushing to get it to the finish line.
None of this would be possible without the hard work and dedication of the guy who started the project, who has held my hand through every step of my journey with it, and has shown great patience and excitement for the future of Doomtown. Known as trimm on the discord server, he's been amazing to work with. I wanted everyone to get to know him a bit better, so we did a short interview: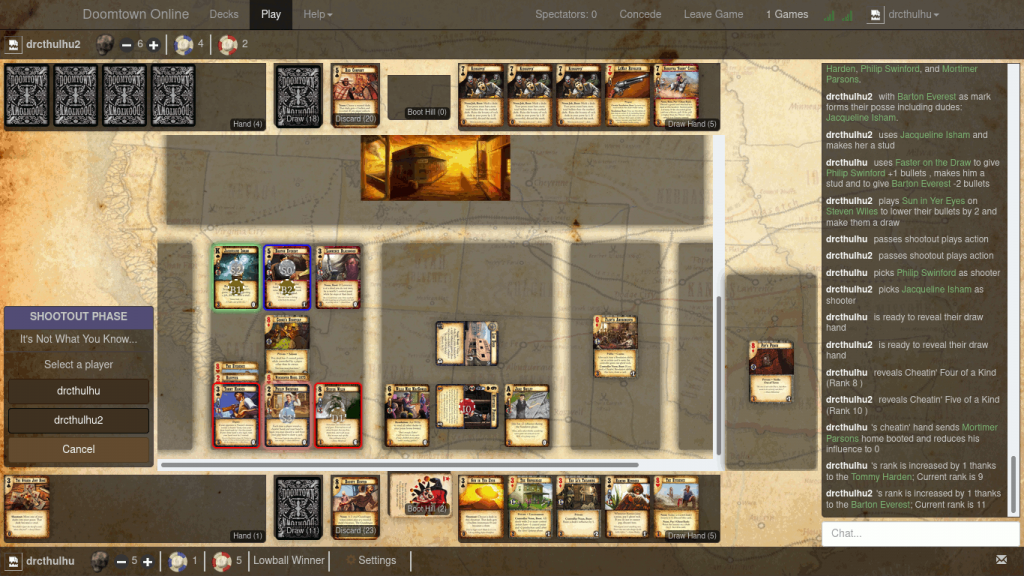 What is your name, occupation and city of residence?
Milan Melisik (Melišík), senior programmer, Prague – Czech Republic (Slovakian by origin)
How long have you been playing Doomtown and how did you first get introduced to the game?
I think it was back in 2014. I had my eye on the game even before then, but was finally persuaded to pick it up by my friend janosikm. I have been playing it only against him since then. My first game against another opponent was in the OCTGN league against Prodigy and I remember being really nervous.
What is it about Doomtown that appeals to you over other card games?
My first card game was A Game of Thrones first edition. I was playing with my colleague who introduced me to card games. I fell in love with the deck building, but the second edition did not fulfill my expectations so I started to look for something else. Doomtown won because of the theme, unique deck building, and because I love westerns. The fantasy/horror was more like a bonus.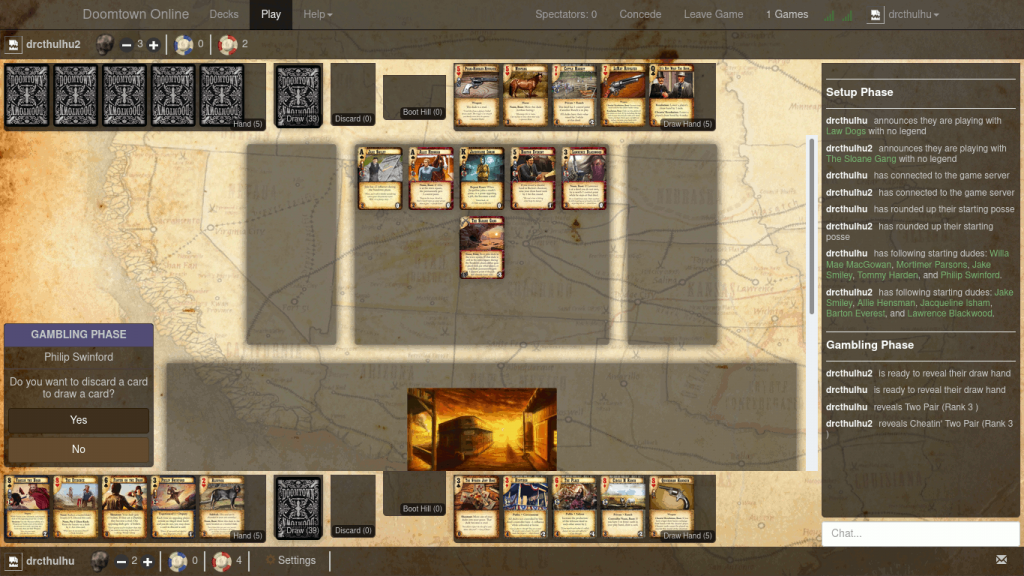 How did you first get involved in contributing to the Doomtown community?
Thanks to the Covid situation, and because our office was closed, I was not able to play Doomtown. Because of this, I decided to try OCTGN. When playing Doomtown on OCTGN, as a programmer, I saw a lot of opportunities for improvement. Also, because I wanted to learn some Python, I decided to fix some bugs, then add some small features and later big ones. That pointed me to the discord community which is great and helped me a lot.
What led you to decide to start the Doomtown Online project? Why start a new project rather than just improving existing ones (OCTGN, TTS, etc)
Even as I was improving OCTGN, I was aware of its shortcomings, especially that it was not available on other platforms. The TTS module is good, but I wanted to have a great level of automation which is not easily done on TTS. As I mentioned before, I started with the Game of Thrones card game therefore I was familiar with its online client (theironthrone aka throneteki).It seemed like perfect inspiration for the Doomtown client especially when I found out there already was an attempt to create it by Blargg, so a big part was already done.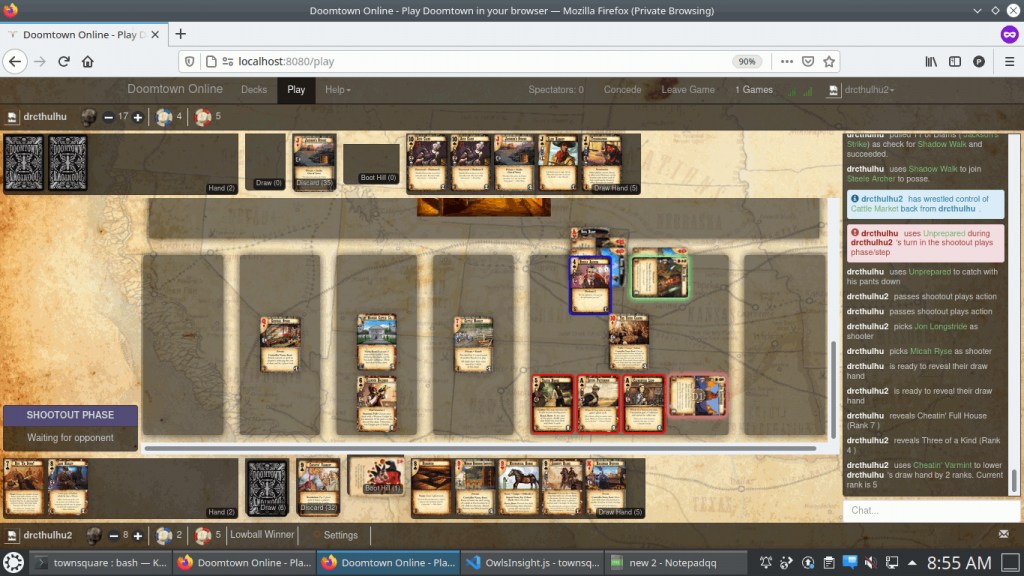 What are the advantages of doomtown.online over the other platforms (OCTGN, TTS, untapped)
Since it is browser based, it is not platform dependent and therefore is accessible to a much broader player base. The background that is reused from throneteki has been proven over time so it was a solid base for the client. The level of automation, if done properly, can be a huge advantage, especially for new players.
What has been the biggest hurdle you've had to overcome while working on the project? What's been the biggest success?
The single biggest hurdle was a first step to merge the older Blargg client version with newer throneteki and have a stable code that we can build upon. The greatest moment and feeling was when the client was deployed on the server and I was able to play it for the first time with my friend janosikm.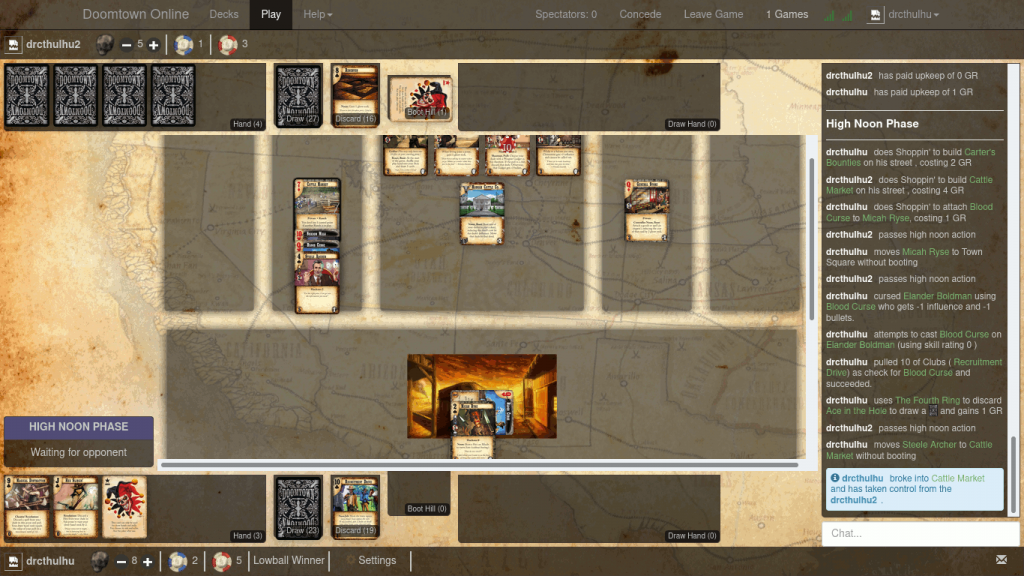 Anything else you want to share?
This project would not be possible without throneteki so I would like to express my great thanks to people who developed it. Also, I would like to thank Blargg, because it would take much longer if not for the older client version created by him. Finally, I hope the client will serve as an addition to the already great Doomtown game and that it will help bring in more players who can experience this gem of a card game.
I want to add a very special thank you to the wonderful people at Pine Box Entertainment. They have been supportive of this endeavour the entire time, and when they told us that they wanted to make it the official and sole online client for Doomtown it was exciting, humbling and daunting. Thanks to them for keeping this game alive and going.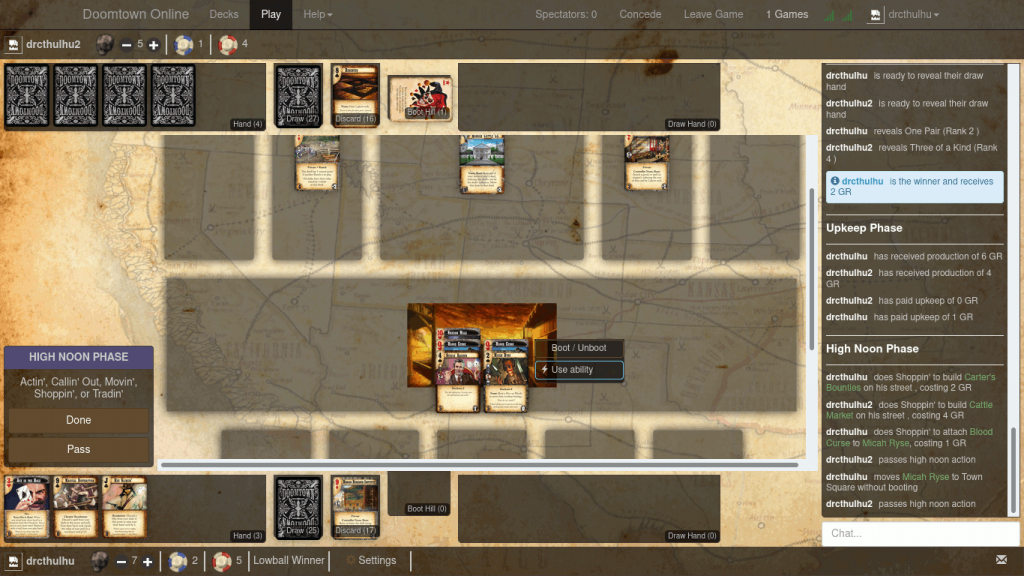 So, when can you expect to join others in the dusty streets of Doomtown Online? Look for the official launch in August 2021!