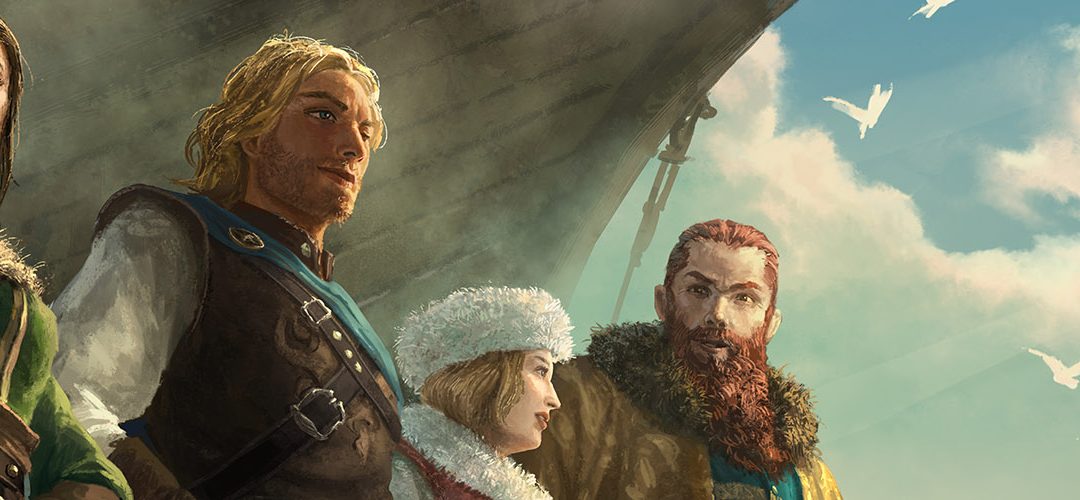 We are Ketal and Hastur, two French playtesters for 7th Sea: City of Five Sails and we are honored to discuss this upcoming expandable card game from Pine Box Entertainment. Here we present the City Deck, one of the core mechanics of 7th Sea: CIty of Five Sails. As previously noted, in this game, players will deploy characters whose goal is to control the City of Five Sails. To do so they'll try to take control of the 3 main city locations which are the Forum, Docks, and Bazaar.

The locations, by themselves, do not have a lot of differences between them. At the beginning of each turn, however, a card drawn from the City Deck will come into play for each of those 3 locations. This bit of randomness means that each game will be truly unique, and players need to be aware of how the revealed cards can benefit them or their opponent. Cards can be one of the three following types: Mercenaries, Attachments, or Events.
 MERCENARIES 
 The first type of card that can appear at the locations are characters which either already live in the City of Five Sails or have just docked for a short stay. They may be pirates, robbers, or local celebrities. Recruit Mercenaries by Exhausting or turning sideways one of your own characters at the same location. Note that Exhausted characters cannot perform further actions that require Exhausting, such as Claiming a Location or initiating combat. In exchange, however, the newly recruited Mercenary will join your crew and will even be able to act this turn.
At the same time, Mercenaries aren't totally free. The Mercenary will ask you to pay a cost which is visible at the top-left of the card. Hopefully, your characters have a high Influence value, which allows you to reduce the cost of the Mercenary they are Recruiting. You will need to plan carefully, since your influential characters are good at taking control of Locations and preventing your opponent from doing so for your victory. Will you send them to risk their lives to hire some fresh blood, and by doing so, maybe let control of the city slip between your fingers?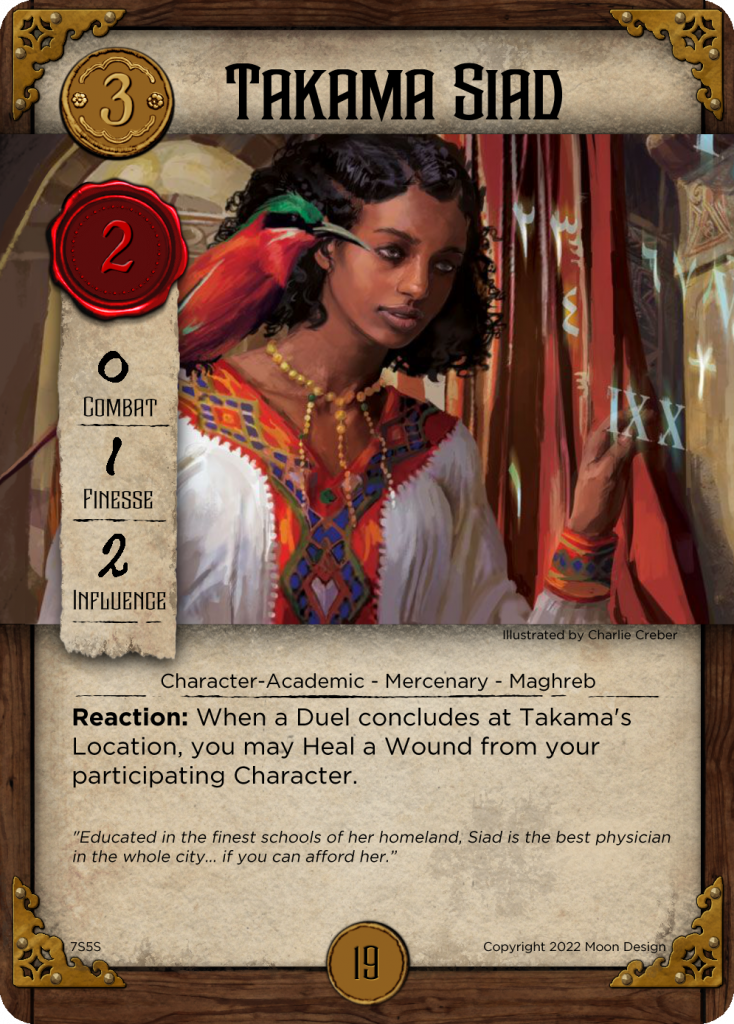 The character we can introduce is Takama Siad, a Healer originating from the Maghreb region of Théah in the 7th Sea universe. With a cost of 3, she's not too difficult to hire on for your crew, but with a 0 for Combat and Finesse values, she's not much of a fighter. Her 2 Influence value, however, makes her an interesting character that can take control of locations, or even Recruit other Mercenaries. What makes her special is her ability: every time a Duel takes place in her location, Takama Siad can heal a wound from your participating character. This ability can occur only once per turn, but in the long run it can help you keep your character alive longer so you can keep your grasp over the City of Five Sails!
 ATTACHMENTS
 The second card type able to appear at your locations represents all the goods passing through the City of Five Sails. Weapons, armor, even magical artifacts are some of the items we can find at these locations. With sufficient funds, everything is obtainable. It'll be about making the correct purchases to equip and empower your characters or to prevent your opponent having access to these coveted goods!
A character can have only one weapon, one armor, and one attire. Characters can, however, possess as many Attachments as you want to multiply their abilities and let you have access to more possible Actions. Attachments can give you direct stat bonuses, grant you new Techniques to use in Duels, or even grant powerful actions to take during your turn! Obtain Attachments the same way you Recruit Mercenaries, by Exhausting your Character to Recruit the item to that Character, paying Cost minus Influence. Attachments remain with a character until they leave the game. Attachments are a way to boost your characters for the long haul. Since there are not many easy ways to destroy them, attachments are reliable investments to tilt the game's balance in your favour!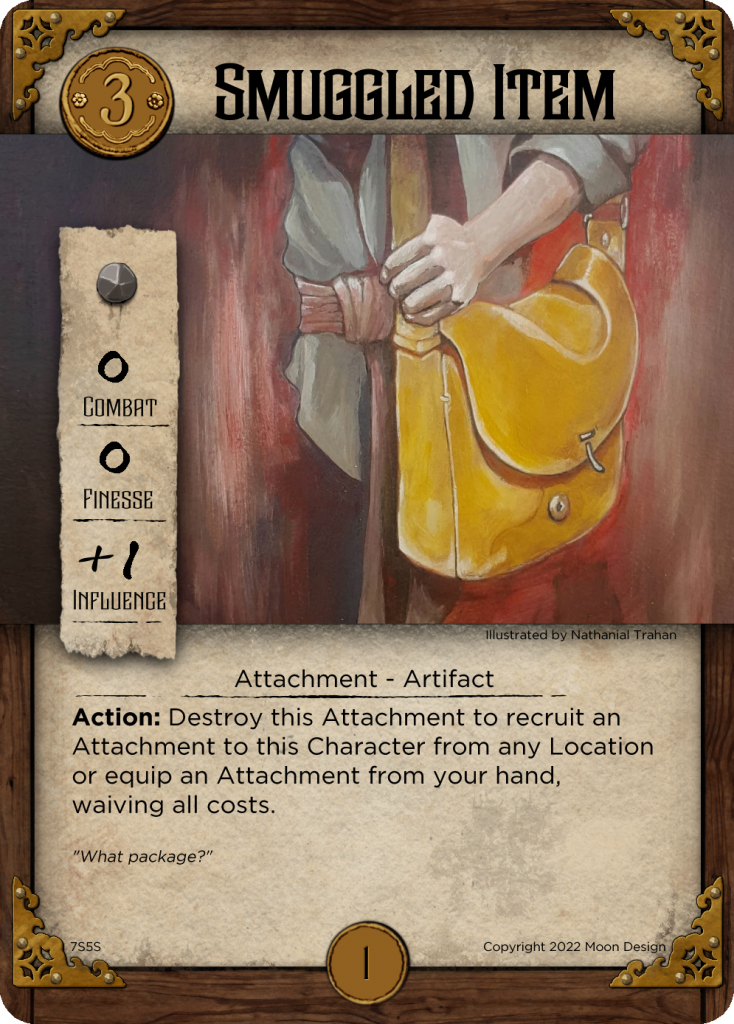 For a low cost of 3, this versatile Attachment lets you increase the Influence value of the buying character. As previously stated, Influence lets you reduce the cost of recruitments and help gain control of Locations. That's already a huge advantage. But furthermore, Smuggled Item possesses an incredible action. Destroy it, and you can buy another Attachment on any Location for free, or even play without cost an Attachment from your hand! Yes, you need to be clever and shrewd to survive in the City of Five Sails. Keeping an ace in your sleeve to play with perfect timing can be THE turning point of your game.
 EVENTS
 The last type of card that can appear at the Locations, and often the most devastating, are Events. Even if you are here to contest the control of the City, the city was here long before your struggle for control and will exist long after. An array of colorful figures run the city despite any and all attempts to challenge the established order. Event cards depict… Events (the name is on point isn't it?) that occur in the city at the same time you are jostling for a position of power within the City of Five Sails. Events can be linked to monstrous creatures, mob uprisings, or even just to a specific character from the City itself. In any case, these revealed Events will greatly influence what happens within the game.

Mechanically, Events can give a particular action for the first player who triggers it, or simply cards that will change the game's rules for their particular location. You will need to adapt and adjust to emerge victorious in a city where everything can change each turn.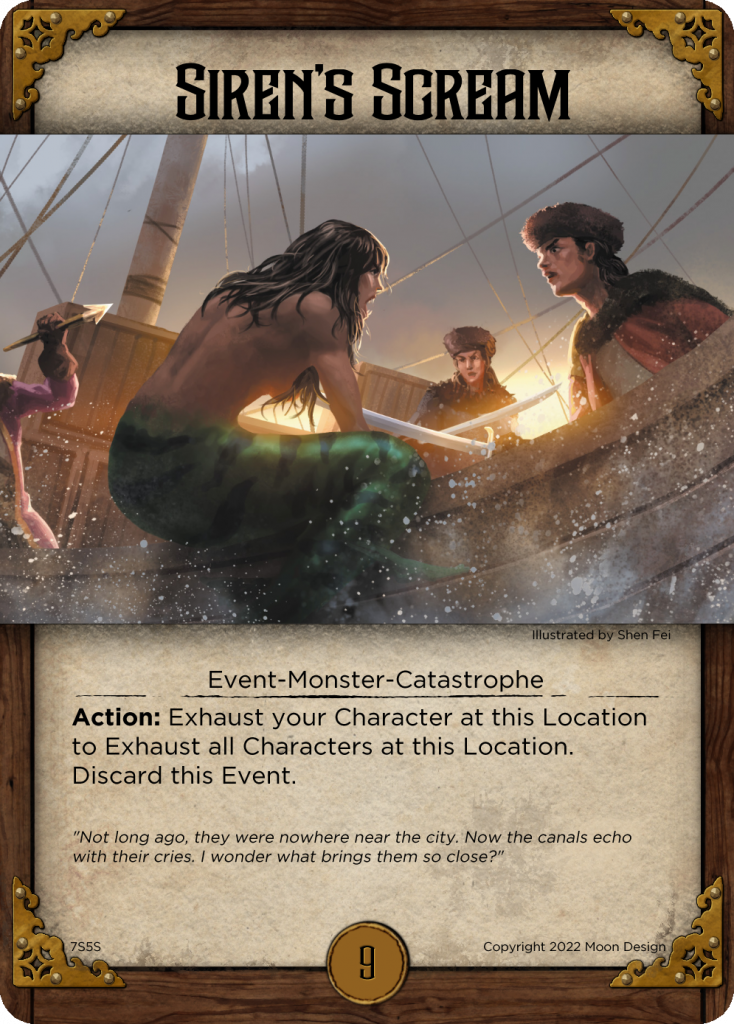 In the 7th Sea universe, sirens are real and their melody is still confusing and deadly, able to drive mad even the toughest or the smartest sailor. To reflect this, Siren's Scream is an Event that lets you Exhaust one of your characters at this Location to Exhaust all of your opponent characters at the same Location. But since it self-destructs this way, you'll have to use it first! Even if exhausting your character to do the same to a single opponent can be useful, wouldn't it be better if you waited to see if another opponent character moves to this Location? But what if your opponent triggers it first? Siren's Scream poses huge dilemmas and serious headaches for the players with the luck (or not?) to see this Event appear during their games.
 Conclusion
The City Deck is a real plus for 7th Sea: City of Five Sails. It's a simple way to give more value to your character movements, to the three different Locations, but especially it'll make each game a unique experience. Randomness is already present in our decks along with drawing cards from shuffled decks. Each turn, the vagaries of the City Deck will potentially enhance or disrupt each player's plans for that and subsequent turns. An all-mighty weapon? A fearsome mercenary? Or a game changing event? Everything can happen and you'll need to adapt each turn to all the new arrivals because even if you don't need all of them, you'll sometimes need to fight to get them because you can't let your opponent lay hands on them!
Another good thing about it is the fact that the City Deck will change over time! Through player decisions at online or in person Organized Play events, new cards will go in, some others will go out. Thus the City Deck provides an effective means to give more lore and especially more life to the game. Since this deck will never stay the same, your games will also change over time.
 We are really eager to help the development team polish the game into the evolving tabletop experience that everyone will enjoy playing. For now, we'll simply say Au Revoir, as we still need to play our 654th match-up between us. We hope we'll quickly meet you around a game table!