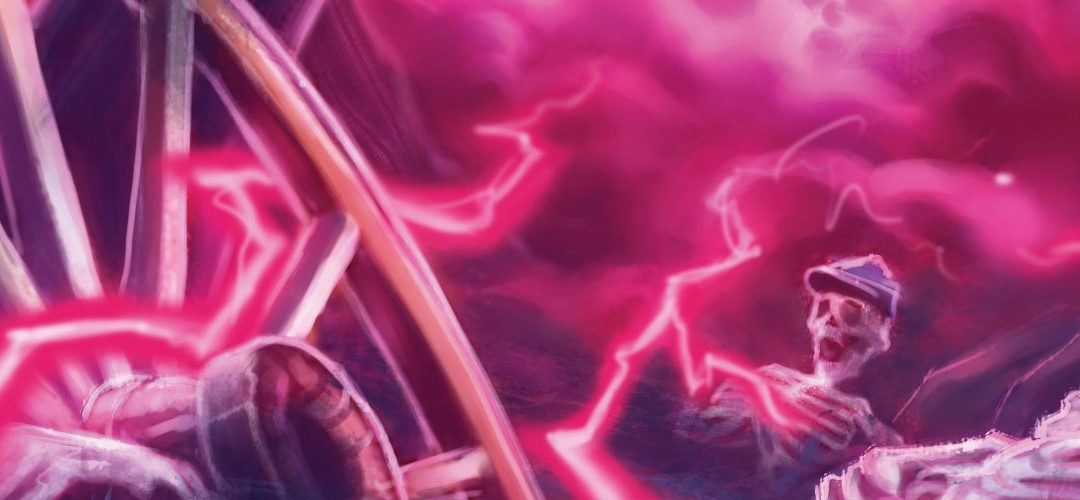 by Derek McConnell (LastWalter)
I've been tracking spoilers for Doomtown since 2018, starting with the upcoming release (at the time) of Too Tough to Die, and here we are three sets later. Last time, in Hell's Coming With Me I got my own card to spoil, Tawodi, but this time they've given me a whole article and I've got some great cards to share with you folks.
This ain't my first rodeo
Grifters used to be popular and nearly omnipresent throughout decks. Nowadays, few of them show up in decks outside Den of Thieves, particularly since the errata to Rico Rodegain. Gone are the days of Travis Moone in every starting gang, as starting dudes have become more compelling and decks have become more consistent. My personal theory is that this is partially because the original cycle of grifters lacked influence. Additionally, most starting posses contained Willa Mae or Henry to catch bullets, along with some dudes with influence plus a designated stud shooter. After all that, it could be hard to find the ghost rock to pay for a grifter while also losing another source of influence. In Welcome to Deadwood however, the new grifters come buffed with the most important stat in the game, along useful start of the game abilities. You've seen the rest, now let's look at the best:
Now that you've met Lew, let's review what he brings to the Fearmongers. Firstly, he is the third Huckster 0 that only costs 3 GR. Lew has an influence advantage over Funtime Freddy, and a bullet advantage over Papa Marias, depending on what you need. Lew's 'Grift' doesn't demand Freddy's 'ultimate sacrifice,' and allows you to search the top 6 cards of your deck for an abomination or mystical goods to start the game with. Note, however, that Lew must put any unkept cards back on top of the deck in the same order, rather than shuffle. This is not always a bad thing, as it allows you to exert some influence over that all-important initial lowball. If you see a full house or other high-ranking hand, you can break it up by taking a card. Forewarned is forearmed as they say, and Lew's precognition can help you plan how to spend your initial ghost rock or plan your first day's actions.
Beyond the corner case of fixing your starting lowball hand, Lew can snag variety of juicy targets. Prior to Welcome to Deadwood, there were 34 abominations for him to hunt, and another 18 non-Unique Mystical goods. Welcome to Deadwood adds three more abominations for Lew to procure, of which we've already met the New Varney Nosferatu and I'll reveal the other two below. Note that our new grifter cannot grab Unique Mystical goods. Items such as Essence of Armitage, Magnum Opus Tenebri, and Stone Idol play well with abominations. By all means pack 'em in your deck, just realize that Lew cannot find them for you.
You want this stuff, but it's too rare for Lew to find.
Starting the game with at least one Mystical goods provides good synergy with several recent cards such as Bayou Vermilion Railroad, Vivene Goldsun, and Auntie Sinister hope to leverage an early Mystical goods. Don't forget about our old friends, The Flying Popescus. This deck can swap out Papa Marias for Lew Esquilin and still use Bayou Vermilion Railroad to play a cheap Mystical goods each turn while impacting your opponent's deeds. Lew helps ensure that the deck gets off to a good start, and you can add the recently spoiled Bad Beat to add additional economic pressure. Beyond that Lew can set up Abomination decks as well! He probably works best with cheap abominations, because you're going to be putting them in your starting hand. The 3 value already has a few cheap abominations that we can steal from Anarchists, and Welcome to Deadwood has a new one to add to the mix:
Look at this thing! Paralysis Mark is BACK – well, not quite. However, here is another cheap abomination for Lew to find, and something to recur with cards like Ivor Hawley XP and Soul Cage.
I'll leave you with the last of Welcome to Deadwood's three new abominations. 
The Angler only costs 3 with 1 upkeep for a 0 Stud, can call out other 7s (Ambrose Douglas, Diego Linares, and Mariel Lewis all come to mind as potential hunting targets), as well as discarding a card to change his value (and thus his target!). Oh, and the Stone Idol and other value reducing cards let The Angler hook even high value dudes. Keep in mind what starters you are likely to see when building around The Angler, as they are the most likely dudes to be around to bump off.
Yes, it's a good time to bring fear and loathing to your area. Welcome to Deadwood!
This concludes our Grifter articles for the upcoming Welcome to Deadwood expansion, available for pre-order through your FLGS or Pine Box Entertainment.