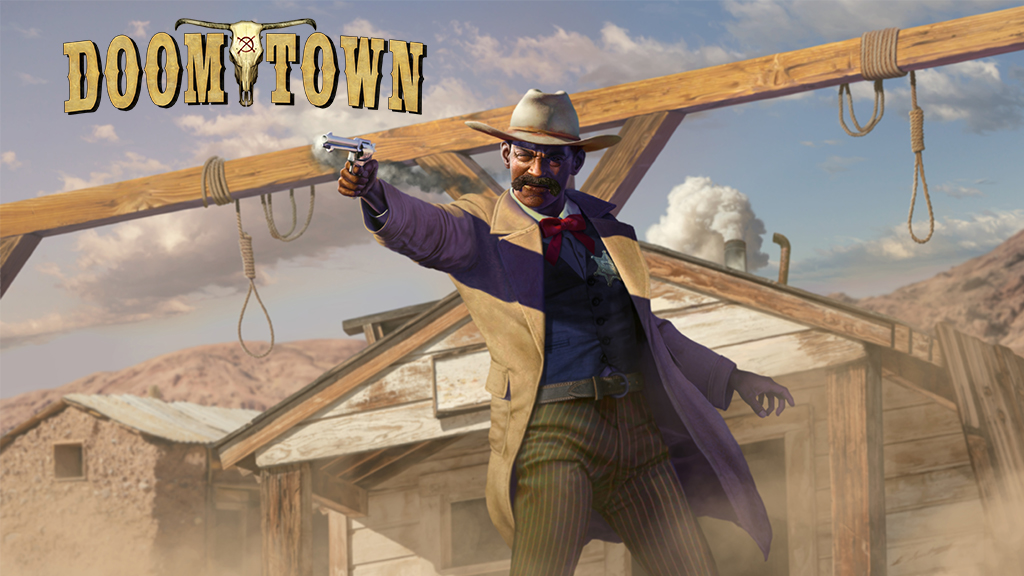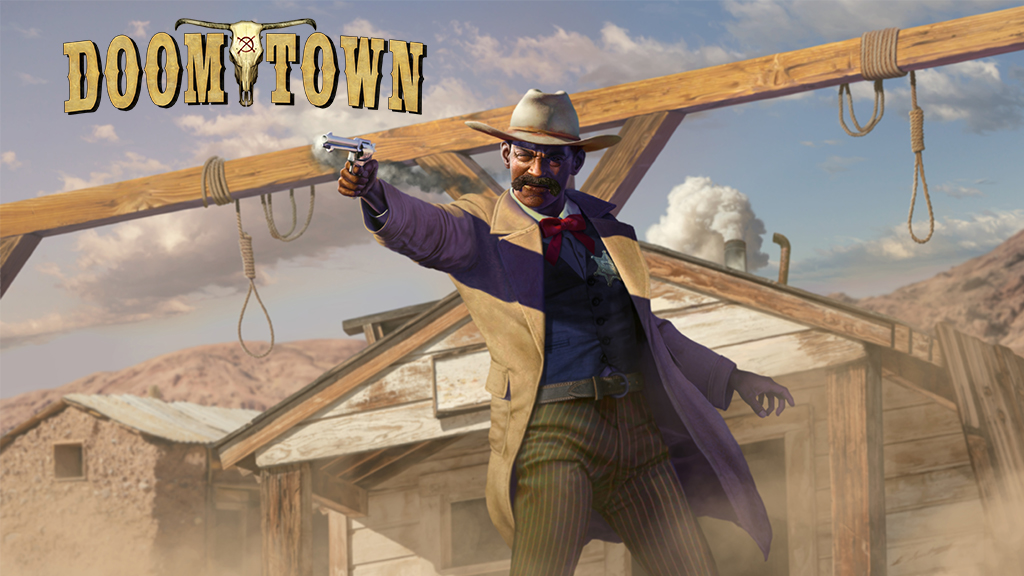 Weird West Edition

New ways to play with your existing collection, including Solo Play, Co-Op, 2v1, and more. 

Doomtown Goes Digital: Play online with our new officially supported platform: Doomtown: Online! 

The Latest Rules Revision: All of the latest updates, including new ones, to keep Strategy and Fun at the heart of Doomtown. 

100% compatible with your current Doomtown collection.

The original Deadlands: The Weird West card game is getting a new base set and a refreshed environment; stay tuned for the Kickstarter launching August 17 by signing up

here

.
"The Year is 1876, but the history is not our own…". This was how Pinnacle Entertainment Group's Deadlands role playing game was introduced way back in 1996. AEG (Alderac Entertainment Group) licensed the alternate history setting and in 1998 created a collectible card game that would inspire an incredible fan base.
AEG relaunched Doomtown: Reloaded in 2014, and in 2016, Pinnacle and Pine Box took over to expand and support this beloved game and its die-hard community. 
So much has been accomplished since then. Pine Box's first expansion, 'There Comes A Reckoning,' was funded through Kickstarter and brought Doomtown from Deadlands' the Great Maze to the rest of the Weird West. This initial expansion introduced cards for four of Deadlands' big bads, the "Servitors", as well as key characters such as Morgan Lash and the Cackler.
We didn't stop there though. Through player driven storyline interaction, Pine Box took Doomtown to the town of Tombstone, Arizona, creating a trilogy of expansions aptly titled "Too Tough to Die," "Out for Blood," and "Hell's Comin' With Me." The team and players walked the boardwalk in Tombstone itself at our 2019 Doomtown Destination Event. In 2020, we continued to explore the Weird West with our latest expansion, "Welcome to Deadwood," bringing our unique card total to 269 new options for players to enjoy. 
A New Base Set
On August 17, 2021, Doomtown: The Weird West Edition will come to Kickstarter to usher in a new era for this beloved property. Doomtown is a deep, strategic, constructible card game that features unique movement and poker-driven combat. For those unfamiliar with Doomtown and its current iteration, you read all about it here.  
At the Tombstone Destination Event, our design team discussed the current status of the player base and card pool. Two issues needed to be resolved: 
Cards inherited from the AEG era of the game, such as Unprepared and Calling the Cavalry, had become problematic for the game.

A large cardpool and old, out of print expansions were making it difficult to add fresh blood to our existing posse of players.
After much discussion, we decided the best way forward was to create a new Base Set.Shortly after our meeting in Tombstone, work began on it in earnest.
This new Base Set serves as a launching point for new and existing players into the latest evolution of the game. For the Standard format of Doomtown organised play events, all cards from the AEG Base Set to "Blood Moon Rising" will no longer be legal for tournament play. Some legacy cards will be removed while others will receive an update, clarifying rules interactions and balancing effects that proved problematic in their original iteration.
The following sets will remain legal for Standard tournament play: There Comes A Reckoning, Too Tough to Die, Out for Blood, Hell's Comin' With Me, and Welcome to Deadwood. 
The AEG era will still be supported as a Legacy format that includes all expansions, which can be found listed here.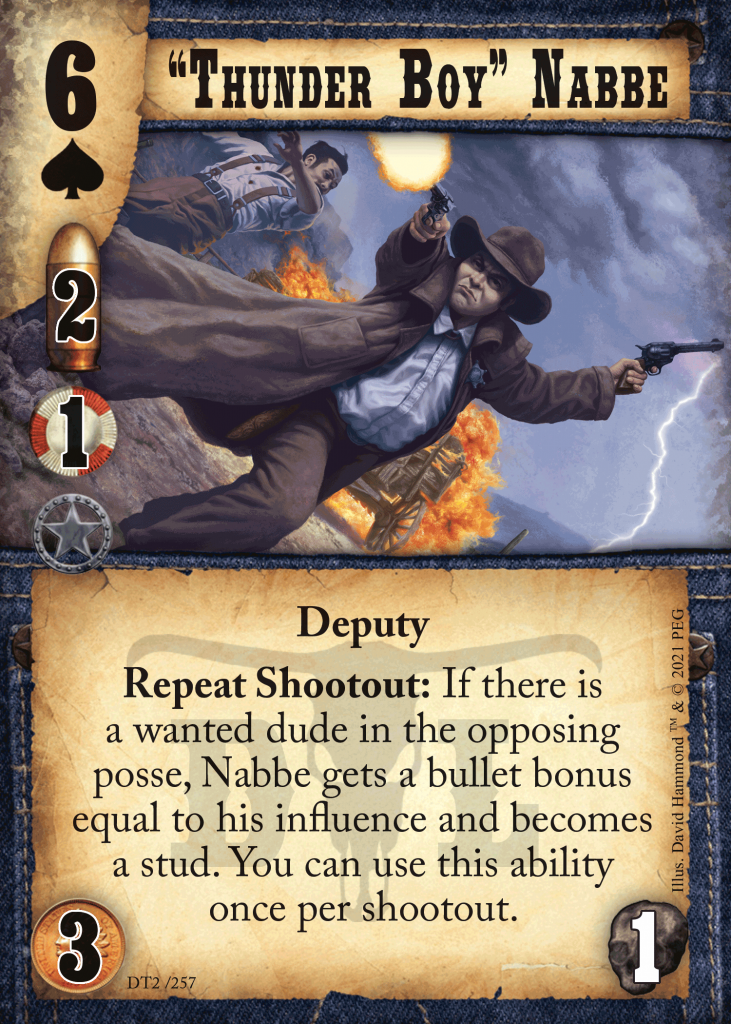 Fear Level/Town Square Markers, Solo play, Co-op 2v1 story scenarios, Multiplayer
 Not only are we introducing a new Base Set, we've got much more to offer as we continue our exploration of the Weird West beyond Gomorra and Tombstone into Deadwood, South Dakota!
The new Base Set includes four new variants of play, including:
Introduction Mulligan

Clock Timer Fear Level

Deadly Shootout

Town Control
 These options are sure to entice Greenhorn and Veteran players into alternative methods of play. For example, we implement an updated version of Classic Doomtown's Fear Level. Instead of empowering Abomination dudes, this variant adds a clock timer.  As with all things Deadlands, Evil is a choice. Do you try and fight the encroaching darkness or choose to take advantage of it?
Tackle solo scenarios highlighting key facets of the game. You can also replay key storyline moments in a new 2v1 Boss mode:
Showdown at the Clanton Ranch

Showstopper 
But that's not all, these scenarios feature the return of Event type cards from Classic Doomtown. While Events in Classic were part of deck construction, a separate Event deck will influence these scenarios.
What Else Is New?
Not only are there a variety of new ways to play, the rules are updating too, pardners! These changes serve both to make the game new-player friendly, while also clarifying potential issues for existing players. Some key changes include:
Kung Fu is now mechanically similar to Spells and Gadgets

Deed costs and production tweaked to promote town building and allowing for more Dudes to enter play

Problematic cards have been addressed, e.g. an updated version of "Unprepared"

Token Dude Statistics have been updated

Core Deeds no longer count against your Starting Dude limit
Last and certainly not least, more than 30 new cards join this set alongside many returning favorites.That's just an overview of all the ways we think community feedback has helped us make a better experience for new players and veterans alike.
Pine Box UK
Our new UK partners at Inquisitive Goblin ensure the new Base Set, existing expansions, and future expansions will be available at an affordable rate to our friends across the pond.
Organized Play 
Our next Organized Play Series features a new Control/Influence dial, Revolver Faction Spinners, Stud/Draw Coins, and brand-new promotional cards. This is part of our upcoming Undertaker program where Pine Box Entertainment volunteer players receive various promotional items to distribute to their FLGS to promote Doomtown and other games.
 Story Plans
The continuation of Doomtown and the move from Gomorra to Tombstone created three major storylines:
-Stone and a Hard Place: The tale of Lucy's fate and the hunt for her killer continues and concludes as the posse continues to avenge her (as told by Jason Pere)
-Twilight Protocol: The latest fiction by Jeff Bailey wraps up the Abram Grothe v. Mason Adler storyline originally presented through WildCards and currently being transcribed into fiction (as told by Ronnie Andrew Gouge)
-Aces Low: The tale of Jonah Essex traveling from Gomorra to Deadwood (as told by Owen Lean)
All of the current storylines will be wrapped up as Dave Hogg takes over as Doomtown Story Lead to bring us into a new era. All future sets will be designed in mind with the continuation of a main storyline and a more cohesive fiction plan for all players to follow.
Digital Plans
Through COVID-19, players have been able to enjoy Doomtown on TTS, OCTGN, and Untap, but we've also been working on an official browser-based online platform specific to Doomtown that features all the proper tokens, our gorgeous playmats, card packs, promos, animations, premium subscriptions, and more! This ensures the future of Doomtown contains a digital version that complements the physical cards and accessories. All backers of the Kickstarter will have access to this feature, and a preview video can be found here.

Previews
From now until the 17th of August, every Tuesday and Friday will feature spoilers of cards from the new Base Set. You can track spoilers and news on all things Doomtown via our various social media outlets listed here.

Why are we doing a Kickstarter?
We are going back to a Kickstarter for this project due to the success of "There Comes A Reckoning," and also to create outreach regarding our existing product line. 
What's to Follow?
On August 19, 2021, Pine Box Entertainment and our partners at Pinnacle Entertainment Group invite players to join us in the town of Deadwood for the 25th Anniversary of Deadlands, This celebration held during the Kickstarter campaign will feature the world championship Marshal of Deadwood event, a 'Traitor' variant round-up, Dueling in Deadwood, Greenhorn Shooting Range, Deadlands roleplaying sessions and a variety of expeditions in town. Check out the full schedule here pardners.

Doomtown will continue with future expansions and organized play for the standard and Legacy formats.Thank you so much to all our fans and players for supporting us and welcoming Doomtown into its next iteration.