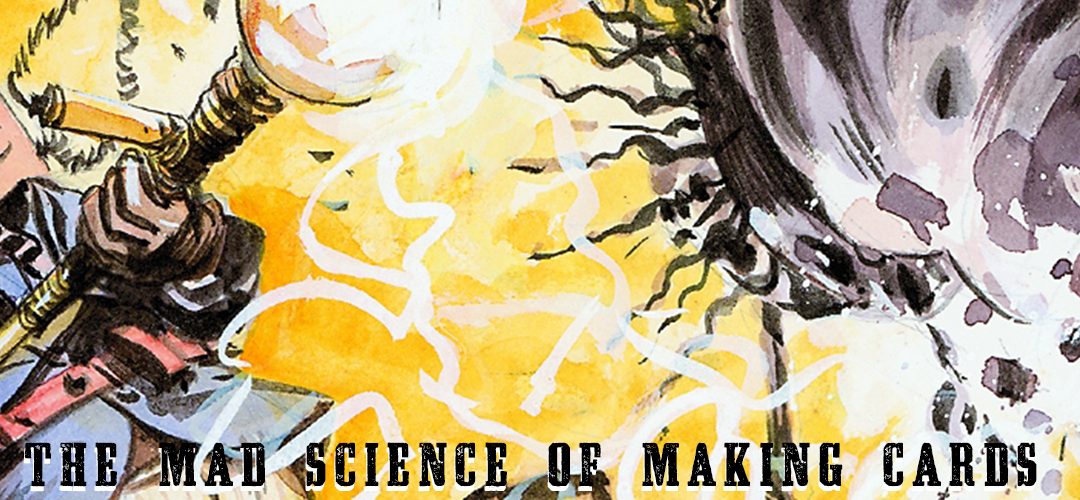 by David Lapp
Howdy Doomtown players! As Pine Box Entertainment makes the transition to Deadwood and prepares for our big shebang in Tombstone this October, we've also just submitted the final expansion in the Tombstone Trilogy, Hell's Comin' With Me! We also wanted to give you a behind the scenes look at how PBE went about continuing Doomtown after There Comes A Reckoning.
One of the main design goals of TCaR was to introduce the Servitors into Doomtown. Each subsequent set, however, fleshed out the existing factions and their themes while creating more tools for new and veteran players alike to vary and enhance their deckbuilding options. Today we're going to take a look at the main pieces and themes of each of the Tombstone-centric sets.
Too Tough to Die emphasized boosting influence among the First Peoples and Outlaws, along with including some powerful anti-cheatin' cards as well. Also, Wendy XP reflected player/tourney decisions that not only emphasize the Law Dogs, but also set the story arc in Tombstone. Luckily Wendy was already in playtest from what we now call SB13-15, the unreleased AEG Doomtown sets that Pine Box continues to reference at times. The Design Team otherwise created cards they believe best advanced the game. Next, the story team formally named each card and selected art from a variety of sources. Working hand in hand with Pinnacle Entertainment Group, the art came from coloring original Deadlands role-playing books black & white pieces, Deadlands: Reloaded, classic Doomtown card art, unused Doomtown art, and newly commissioned art. This variation allowed for diversity amongst the cards and the players can take in over 20 years worth of Deadlands lore. While we focused on Tombstone, several cards featured other locations, dudes, and themes from the Weird West. These choices were generally made after all the cards were playtested and finalized, a bit of a different process from other card games and previous Doomtown expansions in which the art and names came first. Some card names and themes were set by the story team and the player base as a result of organized play choices. It is for this reason you will see an experienced versions of Willa Mae MacGowan, John "Aces" Radcliffe, and Clint Ramsey, along with other cards decreed by voting in our global storyline events.
Out for Blood, added Tombstone themed new outfits that further expanded the arsenal of player choices for each faction. Doc Holliday, arrived as a result of the Evil Is A Choice GenCon event where the winner decided the next Legend to appear in Doomtown. Following the lore in the Deadlands supplement, Stone And A Hard Place, there were several requests for specific characters. Thus the harrowed Curly Bill Brocious and legendary lawman Wyatt Earp made it into this expansion. Like Too Tough to Die, Out for Blood also contained story-driven elements, with cards featured in the WildCards Fiction event at GenghisCon, Twilight Protocol Act I. This fiction set in May 1882 runs separate from our main October 1881 storyline following the law dogs in Tombstone. We also continued to honor player victories with Name A Card and Design A Card prizes, resulting in cards for Byron Decker and Carter Richardson. Both storylines will reach their climaxs with outcomes influenced by the players this October at the Doomtown Worlds Destination Event in Tombstone, Arizona.
So what can you expect in Hell's Comin' With Me? One of the things we wanted to do when we developed the original 4 Servitors was ensuring that these forces of evil would be complemented by 4 Hero Legends. This set will feature 3 new Legends that along with Doc Holliday (see above) round out the Heroes. You will see additional Tombstone themed characters and deeds that help complete this arc. This set also initiates Doomtown's shift to Deadwood and the exploits of the Outlaw Jonah Essex. There will be a few more surprises as well, including the Quaterman Prime, a card created as a directly result of votes cast by players during the Servitor Series to corrupt mad scientist Drew Beauman. More importantly, many of the cards in this set were designed and presented by the playtest team themselves as sincere thanks for all their hard work and dedication to our beloved game. We look forward to introducing some of these cards at Tombstone's main event.