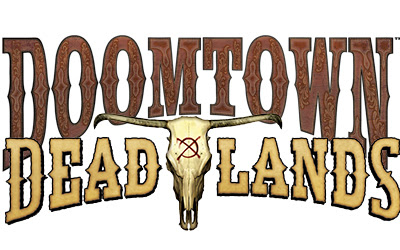 Greetings pardners! If you followed the new Deadlands: The Weird West Kickstarter, or were one of the backers, you may know fulfillment has begun on getting out the stunning new version of this beloved RPG. To celebrate, we'd like to present some ideas on how you can use your Doomtown cards, while also playing Deadlands.
Those new to tabletop RPGs or the Savage Worlds game system will find that combat initiative uses a unique system of each player receiving a playing card from a regular 54-card poker deck. Not only can you use your Doomtown cards to fulfill this function, it can also operate as a tool for the Gamemaster.
The deck featured here on dtdb.co, presents a deck that you can use for the Doomtown card game. You can also shuffle this deck to produce random dudes, deeds, goods, or events that can occur within your Deadlands game. You can either shuffle the deck and pull from it at random, or divide the piles into suits. Need to identify what weapon your baddies are using in a particular fight? Draw randomly from the hearts for your Goods! Need an NPC to appear to interact with the posse? Draw from your spades for an inspired Dude to enter the scene!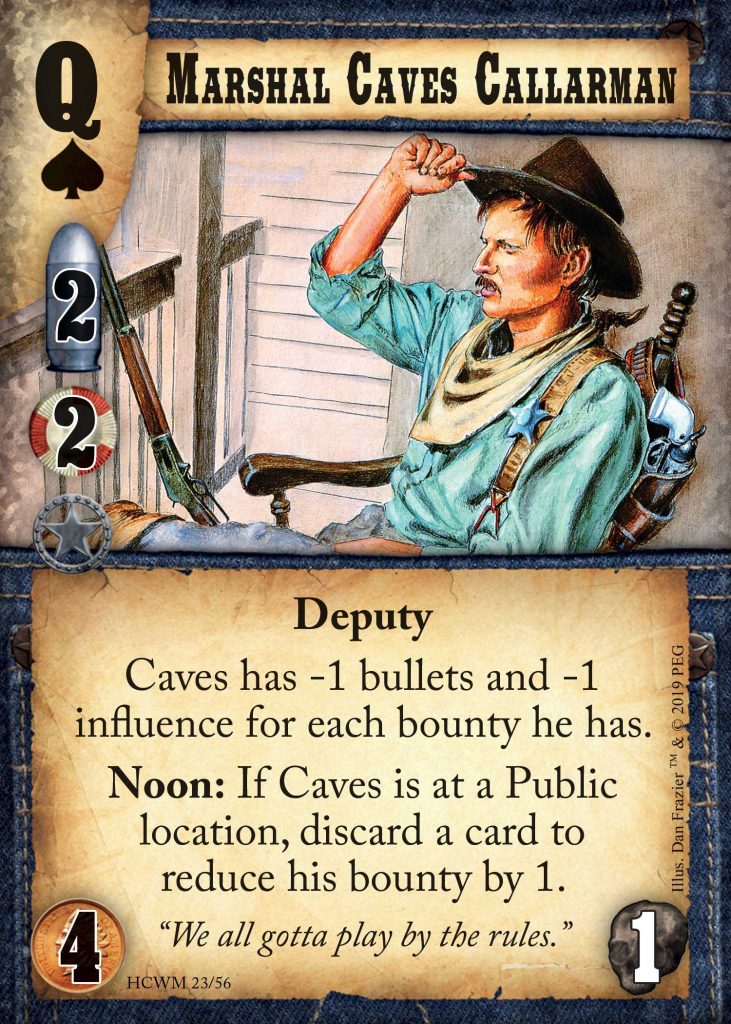 Jordan Caves-Callarman, Marshal of the WildCards Deadlands live show on Twitch, explains his usage of Doomtown cards with the RPG:
"I use Doomtown cards for all sorts of things when I'm GMing Deadlands. They can be great visual aids for NPCs or enemies like I used them in our game for the Deadlands Kickstarter, and when I ran the Twilight Protocol event games my players got a kick out of being handed cards representing items and relics they came across. There are also a ton of colorful location cards you can lay out to better illustrate the places your posse visit – set them up as you would in a game of Doomtown to create an easy map of a frontier town's main street!
Having visual aids at the table is great, but what I really like about using Doomtown cards as a GM, are all the details. Between the colorful names, the card art, and the flavor text, there are plenty of jumping-off points on any given card for coming up with memorable NPCs, items, and locations – you can use them as-is, or just keep what inspires you and drop the rest. Grab a couple of Action cards to lay down when there are complications in your players' best-laid plans, or use them to spark ideas for fun plot wrinkles to add to your session."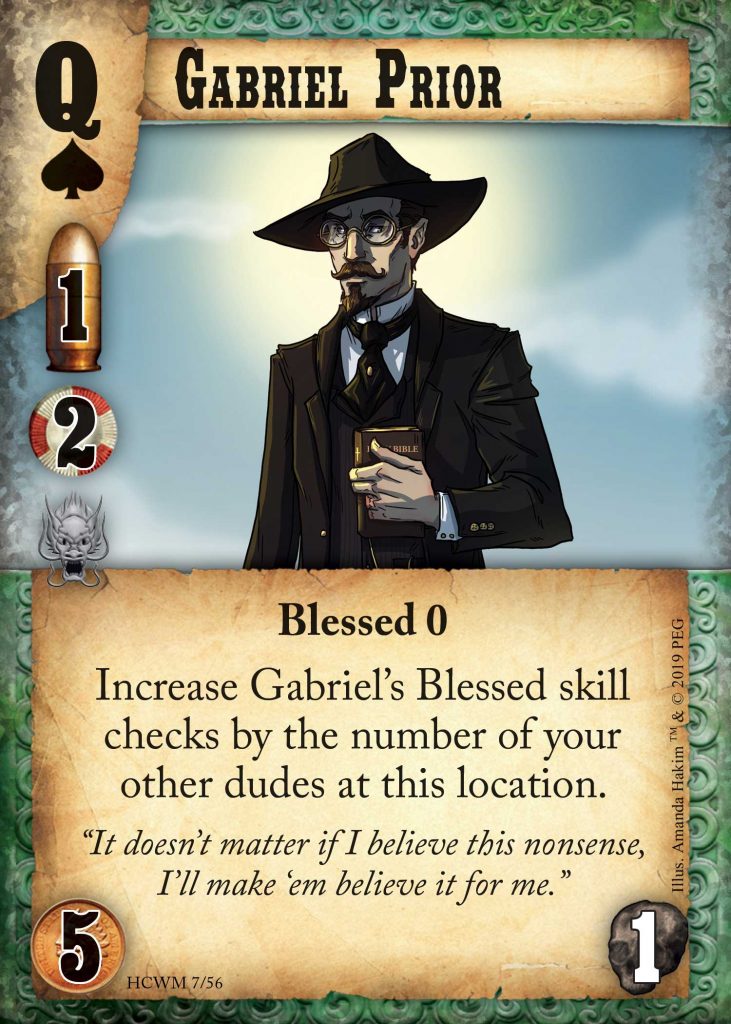 Jordan Pridgen, who portrayed Gabriel Pryor in the WildCards show adds the following:
"As an RPG player, your character is everything. Whether you're sitting down for a single one-off session with some new friends at a convention (remember those?) or building something for a long-term campaign, you want your character to really have legs. Sure sometimes you have the perfect idea right off the bat, but if you're a new player who isn't used to the scope of the Weird West, or an experienced dice-slinger who feels like they want to branch out, you won't find a better font of cool character ideas than Doomtown.
Personally, I've found Doomtown to be flush with inspiration. You can basically pick any dude from any set and start the sparks of character innovation burning. I mean sure if you base a character off of "Dynamite" Jacc you might want to have a spare ready, but even a card as simple as the wonderfully named "Androcles Brocklehurst" could lead you to build an old-school southern lawyer with money and connections (and maybe a little bit of corruption if you dig deep enough), who frankly I know I'd have a great time playing.
On the other end of the spectrum, the stylish masked burglar Jim Hexter, or the unconventional besuited martial artist Feichi "Suitcase" Lee, could make for unforgettable PCs with quirks that will really help you motivate and drive your personal story. Heck, I would be lying if I didn't admit that cards like "Quaterman" and "Post-a-tron" were part of the inspiration for my character Midas Buchanan's mechanical child "Christopher" on Wild Cards. So if you're thinking about getting into Deadlands RPG, or even just looking for some new takes on the world, give Doomtown a look. And hey, come join us for a few games on the discord while you're at it!"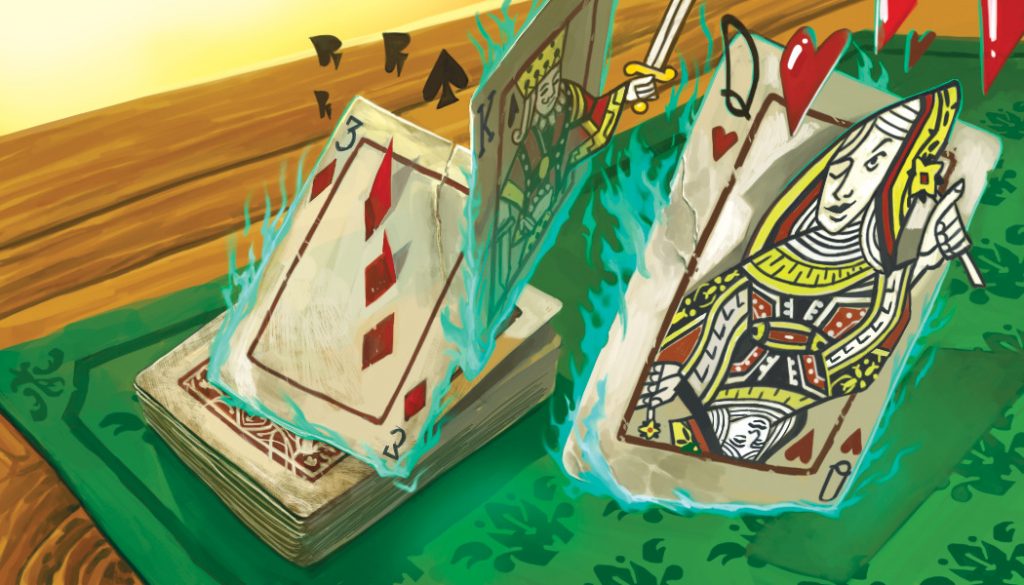 We recommend the following list to start out, or make your own pardner!
Smith & Robards Trade Show (Out for Blood): You can include this with your Clubs or Diamonds.

Dude (13)

1x Theo Whateley-Boyer (Ghost Town)

1x "Mahogany" Jackson (Ghost Town)

1x Henry Moran (Ghost Town)

1x "Thunder Boy" Nabbe (Blood Moon Rising)

1x Adrián Vallejo (There Comes a Reckoning)

1x Johnny Brocklehurst (There Comes a Reckoning)

1x Agent Provocateur (There Comes a Reckoning)

1x F1 Burch (There Comes a Reckoning)

1x Cooper Grannon (Hell's Comin' With Me)

1x New Varney Nosferatu (Welcome to Deadwood)

1x Clementine Lepp (Base Set)

1x Funtime Freddy (Frontier Justice)

1x El Grajo (No Turning Back)

Deed (13)

1x Walters Creek Distillery (Ghost Town)

1x Epitaph Branch Office (There Comes a Reckoning)

1x Gateway Station (Out for Blood)

1x Rham's Readings (Hell's Comin' With Me)

1x Land Purchase (Welcome to Deadwood)

1x The Town Hall (Base Set)

1x Stagecoach Office (Base Set)

1x Cattle Market (Base Set)

1x Bunkhouse (Base Set)

1x General Store (Base Set)

1x Telegraph Office (Base Set)

1x The Mayor's Office (Election Day Slaughter)

1x Huntsmen's Society (No Turning Back)

Goods (13)

1x Jael's Guile (Dirty Deeds)

1x LeMat Revolver (Bad Medicine)

1x Tusk (Ghost Town)

1x Essence of Armitage (The Curtain Rises)

1x Bowie Knife (Blood Moon Rising)

1x Scattergun (Out for Blood)

1x Peacemaker (Base Set)

1x Pearl-Handled Revolver (Base Set)

1x Flame-Thrower (Base Set)

1x Legendary Holster (Base Set)

1x Holy Wheel Gun (Double Dealin')

1x Outlaw Mask (Faith and Fear)

1x Idol of Tlazolteotl (Immovable Object, Unstoppable Force)

Action (13)

1x Framed (Ghost Town)

1x Putting The Pieces Together (The Curtain Rises)

1x Calling The Cavalry (The Showstopper)

1x Hostile Takeover (Too Tough to Die)

1x Frontier Feud (Hell's Comin' With Me)

1x As Nature and God Intended (Welcome to Deadwood)

1x Hired Guns (Base Set)

1x Ambush (Base Set)

1x Kidnappin' (Base Set)

1x Bounty Hunter (Base Set)

1x A Coach Comes to Town (Base Set)

1x A Secret Tunnel (Base Set)

1x Ol' Fashioned Hangin' (No Turning Back)
Cards featured includes those up to the recent Welcome to Deadwood expansion, available now from the Pine Box Entertainment store or your FLGS!
To get caught up on the status of the Weird West as it related to Doomtown, check out our new video detailing more ways in which Deadlands ties into Doomtown!