By David Lapp and Rhiannon McCullough
From the Weird West to Théah, adding a new card game to Pine Box Entertainment's lineup has been quite the adventure. When we continued Doomtown, we already had an established game to move forward on. Creating one from scratch has been a whole different beast, and quite a rewarding challenge at that. 7th Sea: City of Five Sails is currently still in development as design and playtest continue to work hard to bring you this amazing swashbuckling game. At the same time, we are also working on card layout and art and we wanted to give you a first look at one of the card types, Risks.
What are Risks?

In the 7th Sea roleplaying game, Risks are defined as important actions that could impact the story:
"When you're playing 7th Sea, you'll find that your Hero is put in all kinds of tough situations, moments in which real danger or disastrous consequences lay just around the corner. Your Hero takes actions in response to those threats and consequences—Risks—in the hopes of saving the day, warding off fate, or just plain staying alive!"
The Risks in 7th Sea: City of Five Sails represent actions taken in both the main phase and 'Maneuvers' that occur during combat. They affect the outcome of the turn and what you can do with your crew.
Nation Specific and Neutral

During deck construction, players will be able to field cards specific to their own Nation, along with those of a pool of Neutral cards to form a 35-40 card play deck. While the actual rules of play remain a work in progress, we hope you are as excited as we are about the layout and graphic design itself.
The following layouts are from some Risk cards that share certain characteristics. The name and cost appear at the top. The symbol for the Nation is in the middle of the card, towards the right. This Nation symbol and the 'RPT' combat values at the lower left are a nod to the original 7th Sea card game actions. The Riposte, Parry, and Thrust values are signified by symbols and occur in the same top to bottom order on every card. The card's main abilities appear in a text box to the right of the RPT values. As in Doomtown, the flavor text listed below the text box help tell the story accompanying the written fiction you will find in card set releases and online. Please note that some terms are subject to change. For instance, the word 'Character' may be replaced with 'Crew' as we continue to develop and assign terms that are flavorful and appropriate, but also clear and concise to our players.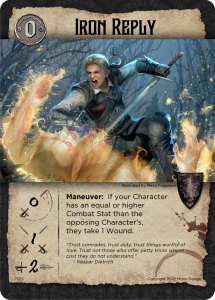 The Iron Reply (Eisen Nation) is only used in Combat, due to its Maneuver text.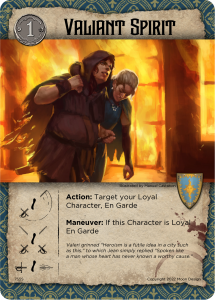 Valiant Spirit (Montaigne Nation) is useful both outside of Combat for its Action, or in Combat for its Maneuver. 'En Garde' refers to the act of a straightening a card, thus once again making it ready for use.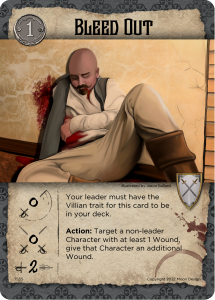 Lastly, we have Bleed Out, a Neutral card available only to Villain Leaders. This card adds Wounds to a Character. Characters will be able to take Wounds up to their Resolve rating. That's right, there will be an opportunity to play the bad guys.😊
Complementing the art, the new card templates have been designed to capture the sense of swashbuckling adventure and feel of the original CCG design. At the same time, we hope that the cards for 7th Sea: City of Five Sails are both readable and aesthetically modern.
Besides developing 7th Sea: City of Five Sails, David is also currently the Lead Developer for Doomtown. Rhiannon is an illustrator and gamer from the Northeast and a graduate of The University of Hawai'i Mānoa. She has previously worked with Dark Steel Games as an illustrator.